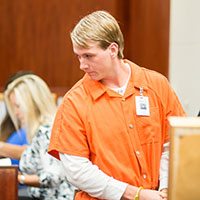 Dustinn Keeling pleads 'not guilty' to DUI charge
STORY BY MEG LAUGHLIN

Dustinn Keeling pleaded "not guilty" last week to DUI charges, levied in the early morning of July 5 after police stopped him for driving at 69 miles per hour in a 45-mph zone on State Road 60.
According to the police report, Keeling reeked of alcohol, had an open beer in the car cup holder, two more on the passenger seat and two more in a cooler on the floor. He failed a roadside sobriety test, said police.
He was also cited for driving without a license and failure to produce proof of car insurance.
Keeling's license was suspended in January after he didn't pay fines for a citation he received last September for speeding in a school zone. Despite paying the overdue fines in February, five months after getting the speeding ticket, his license remained suspended, which he told police he didn't know. 
In November 2013, Keeling had been sentenced to two years in jail for grand theft, forgery and writing worthless checks, after he stole over $30,000 from the nonprofit Haiti Clinic, the North County Republican Club and his aunt.
With the help of a benefactor, Keeling paid the money back. He also completed hundreds of hours of community service. As a result, Judge Robert L. Pegg withheld adjudication, so that when Keeling got out of jail in 2014 he did not have a criminal record.
Over the past year and a half, he has worked as a bartender at three to four restaurant bars in Vero Beach.
After his recent arrest for the DUI, Pegg ruled Keeling had violated the terms of his probation and sentenced him to six months in jail. But Pegg continued to withhold adjudication on the theft and forgery charges, which still enables Keeling to have a clean slate once more when he is released from jail in the winter.
Keeling, who is in the Indian River County Jail, is now awaiting trial for the DUI charge. No trial date has yet been set.