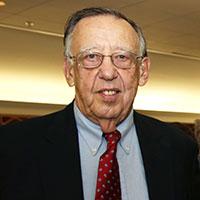 IRNA leader scripts Mayor's remarks
STORY BY LISA ZAHNER

Vero Beach Mayor Dick Winger appears to be taking his cues on electric issues not from the city's high priced outside counsel but from retired attorney George Christopher, a long-time Riomar resident and controversial leader of the Indian River Neighborhood Association.
Two weeks ago, Vero Beach City Council candidate Brian Heady prophetically characterized the incumbents on the council as "mouthpieces," and now Winger has admitted he was indeed reading from a script furnished by Christopher with regard to the Florida Power and Light's proposal to purchase the Town of Indian River Shores electric customers for $13 million.
Critics have long suspected that the IRNA and its leaders, Christopher among them, have been pulling Winger's strings. Ironically, Christopher may have sent Winger the talking points all the way from North Carolina, where he's reportedly living now. Christopher's $2.6 million house on Painted Bunting Lane has been on the market for six months.
IRNA has long denied that either the organization or its leaders individually had taken a position on electric utility issues.
At last week's City Council meeting, just as the topic of Vero electric was being introduced and before FPL's External Affairs Manager Amy Brunjes even had a chance to present her company's proposal to purchase the Shores, Winger took out a piece of paper and read his statement.
Winger praised attorney Robert Scheffel "Schef" Wright for hammering out a deal with OUC that will be a "major help" for the city (see related story on OUC deal), and then turned his attention to the anticipated presentation by FPL's Brunjes, saying communication between the city and FPL about a sale of Vero electric has been ongoing.
"I guess I really want to speak to the people of Indian River Shores this morning because I think therein lies an issue. And what I want to say is we must treat all users the same. We cannot do a deal that disadvantages one group of ratepayers over another group any more than we can charge users in one area of the county higher rates than we charge users in another area of the county," Winger said.
"And you know I'm sure that the majority of the people in Indian River Shores understand this and they don't desire special treatment. I wonder why they put a suit forward, but since it's there I think we need to move forward and get that resolved."
It's not unusual for Winger to read from a prepared statement, but this time, Winger's neighbor on the dais, Councilwoman Pilar Turner, glanced over to notice Winger was reading from a printed email.
When asked after the council meeting what she thought about the statement Winger read, Turner told Vero Beach 32963 that Winger was reading from a printout of an email. When asked who the email was from, Turner answered, "It was from George Christopher."
Watching a replay of the meeting video, Turner can be seen smiling a knowing smile throughout Winger's remarks after noticing it was Christopher's words he was reading into the record.
Public records subsequently revealed that the email, sent from Christopher's Gmail account at 9:19 am on Aug. 17, the day prior to the Council meeting, was sent to Winger's personal email address, not his city email account.
It took two days and some prodding for Winger to finally produce the email.
At first, in response to a records request on Aug. 19, Winger did not acknowledge its existence. Then on Aug. 20, he copied and pasted the text of the email that he used in his remarks and sent that to City Clerk Tammy Vock, still not acknowledging the source of the text.
Winger wrote to Vock, "If you are asked for what I read, this is it.  What is in quotation marks is what I read.  What is not in quotations, was not read line for line, but along the way I did use the data," signed, Dick.
On Aug. 21, after numerous requests, Winger gave Vock the one-page email with Christopher's name in the send box. It had a hand-written note, one word, "Flagler" at the bottom in Winger's hand.
As to not take Christopher's words out of context, here is the full text of the email. Words in parenthesis marked here in italics were stricken through by hand by Winger. Paragraph breaks are those from the original email.
"We cannot do a sweetheart deal for a limited number of customers. We cannot do a deal that disadvantages one group of ratepayers over another group, anymore than we can charge users in one area of the county higher rates than we charge users in another area of the county.
"I have made it clear that I would not vote for a partial sale if the result was higher rates for our remaining customers. (I do not understand this 11th hour short sale proposal. It is a blatant, desperate attempt to influence the outcome of the litigation instituted against us by the shores.) I am sure the majority of the people in the shores do not desire special treatment to the disadvantage of all other users.
"We often hear about transparency. Before I can vote for this partial sale I need to be shown numbers that show that the rates for our remaining customers will not increase. And I have to be shown the remaining customers will not be overburdened with stranded costs.
"We should proceed with the OUC deal and our other efforts to lower rates for all our users; if this partial sale can be shown to be fair to all users, then we can consider it."
Though Winger did not read the whole text at once, he did work the entirety of the talking points into his comments throughout the discussion.
The IRNA and its members have staunchly supported Winger in his three bids for office. Winger has publicly called Christopher "brilliant" and said that he values his experience and his opinion greatly.
Winger and Christopher may not recall, but on Nov. 13, 2014, Finance Director Cynthia Lawson summarized what she called "a very high level review" of the potential impact of losing the Shores customers.  That analysis assumed no cash infusion to Vero, yet still little impact on rates. Lawson in her memo to City Manager Jim O'Connor said the impact would amount to a 1 percent rate increase and a loss of $518,000 per year to the general fund.
Shores rate expert Terry Deason put out a report earlier this month that showed the $13 million cash from the proceeds of a sale of the Shores, if used to pay down debt or invested wisely, would offset the half-million now siphoned off Shores customers' electric bills, in perpetuity.
Heady said, after watching the meeting and reading Christopher's email, "It is unfortunate that we have a mayor who lacks the ability to think about issues and form his own conclusions. Instead our mayor is clearly the mouthpiece of the special interest groups who contribute dollars to his campaign and then write his speech."
Shores Mayor Brian Barefoot said he had not seen the meeting or the email, but said of the revelation that Christopher appears to be pulling Winger's strings, "I'm not surprised."
With regard to the $13 million offer on the table from FPL to buy the Shores customers and thereby bring an end to the lawsuit, Barefoot said, "I think the bottom line here is, FPL with our encouragement has made a very fair offer as compared to anything in the state. It far exceeds anything that's been approved by the courts and the Florida Public Service Commission.
"Stonewalling this or trying to postpone this and not engage in meaningful negotiations is irresponsible in my opinion," Barefoot said. "I would encourage Mr. Winger to enter into good-faith negotiations, and there's no reason those negotiations can't run parallel as the litigation proceeds. It would be to the benefit of all the ratepayers, including those in the county, the Shores and the City of Vero Beach."