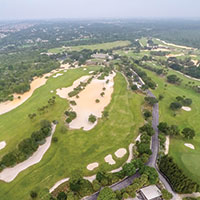 Moorings set to complete purchase of Hawk's Nest
STORY BY RAY MCNULTY

The Moorings Yacht & Country Club has completed its due-diligence process and could finalize its $2.5 million purchase of the Hawk's Nest Golf Club as soon as this week, according to two sources with knowledge of the deal.
"Negotiations are in progress and they're just working out the final details," one of the sources said last weekend. "Hopefully, by the end of the week, we will have a deal consummated."
"It's going to happen," another source said.  "Both parties want this deal. Both parties need this deal. It's a positive thing for both clubs."
Both sources spoke on the condition of anonymity.
The Moorings General Manager Craig Lopes said Saturday: "It's not a done deal," and that he could not comment further.
Moorings members overwhelmingly approved the acquisition of Hawk's Nest at a special meeting June 1 and, in so doing, authorized their Board of Governors to proceed with the due-diligence process in hopes of negotiating a purchase agreement before summer's end.
According to an email Moorings president Joe Vargas sent to members after that meeting, 81 percent of the club's membership participated in the vote and 85 percent of the ballots cast were in favor of the acquisition.
"Upon successful completion of the due diligence," Vargas wrote, "we plan to close on September 1, 2015."
The meeting was held three days after Hawk's Nest members decided to sell their 28-year-old club to The Moorings, rather than to the San Diego-based Heritage Golf Group, in a vote that required only a simple majority.
Sources familiar with the Hawk's Nest vote said 96 percent of the club's 144 members cast ballots, but none would disclose The Moorings' margin of victory.
Once the deal is finalized and a purchase agreement is signed, Hawk's Nest members will immediately become members at The Moorings, which appointed an integration committee to assist with the transition. Among the issues being addressed by the committee is whether Hawk's Nest members would get seats on The Moorings' board.
"This is a win-win situation," one source said. "Remaining an independent club was not a sustainable option for Hawk's Nest, and the addition of Hawk's Nest adds value to a membership at The Moorings, which needed a full-length golf course."
Sources said Hawk's Nest is carrying a debt of slightly more than $2 million and had lost more than 100 members since its pre-recession heyday. Despite a recent appraisal that placed the value of the 300-acre property at $5.5 million – if developed as residential real estate – a downward trend in the golf industry throughout the nation's economic malaise has made stand-alone clubs a dicey proposition.
Stand-alone clubs, such as Hawk's Nest, are struggling to attract and retain younger families, which tend to prefer full-service country clubs, such as The Moorings, which also offers a yacht club, tennis complex, swimming pool, fitness center and spa, as well as the only executive-style layout designed by renowned golf-course architect Pete Dye.
"A lot of the Hawk's Nest members wanted those other amenities offered by The Moorings," a Hawk's Nest source said after the club's vote to sell to The Moorings.
The Moorings' $2.5 million offer would pay off the debt and provide additional reserves to fund improvements to Hawk's Nest, which opened in October 1987 and has operated as an equity-member-owned club since September 1993.
The Moorings initially expressed interest in acquiring Hawk's Nest in early April, primarily because it believes a full-length, championship-caliber layout is needed for the community to remain competitive in appealing to younger executives and retirees less apt to be satisfied with the club's 18-hole, par-64 "short course" that spans only 4,434 yards.