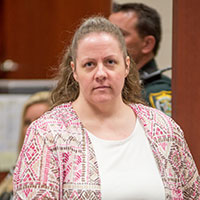 Shores' tiny police force comes up big in Albrecht case
STORY BY LISA ZAHNER

It's tough to believe that all the evidence presented during the two-week manslaughter and fraud trial of Gina Albrecht was largely produced by a law enforcement agency with one detective, who splits his time among being a cop, a firefighter and a paramedic.  But that's the reality in the Town of Indian River Shores.
Two crime scenes – the Marbrisa home of victim George May and the Albrecht home in the Vero Highlands – had to be processed and search warrants obtained. Crates of documents, plus artwork and collectibles and firearms were seized, catalogued and examined. Financial records and medical records had to be obtained, combed through and analyzed. Forty-four witnesses in the state's case had to be tracked down and interviewed. Everything, according to prosecutors, was meticulously documented.
Despite the magnitude of the task, the case the Shores developed was praised as being above reproach. And the Shores officers themselves got kudos not only for attention to detail, but for performing exceptionally well on the witness stand.
"Credible" was a word used over and over again, by jurors and prosecutors. In short, they made their new boss very proud. "There wasn't even a minor glitch presented with the work of this department," said Chief Rich Rosell, the 30-plus-year law enforcement officer who this spring was tapped to lead the Shores Public Safety Department.
Within the public safety building which most residents view as the fire station, Town Manager Robbie Stabe, who at the time was Chief, said the downstairs training room, a space of about 30 feet by 40 feet, was converted to a bullpen dedicated to the investigation.
Lt. Mark Shaw, who pronounced May dead in his bedroom in October 2012, was serving as the lone detective during the time the Shores was called out to investigate complaints of exploitation during May's last two years.
"This was a once-in-a-career type of case, something you see every 25 or 30 years," Shaw said. Rosell said it's the kind of case that tests an officer like Shaw to summon everything he learned in the police academy and pair that with everything he's learned on the job.
"I don't think anybody wants to be in a situation to walk in and to have to see that," Rosell said of the scene officers found – an emaciated 81-year-old man, abandoned, helpless and left to die. "But they prepared their whole career to be in that situation. That's why you pay attention your whole career."
Sgt. Rick Sarcinello responded to calls for service at the May home and testified in the trial. Sgt. Shawn Hoyt took over the Detective slot for the bulk of the investigation. Hoyt was later promoted to shift commander on a 24-hour fireman's shift schedule and performed that job while preparing for the trial. Sgt. Kip Benham is the current Detective in charge of all aspects of investigations, from crime scene photographs to evidence chain of custody.
Stabe said the May-Albrecht case required all hands on deck, from extra hours transcribing interviews to keeping track of the evidence to following up on leads and making sure subpoenas for documents were complied with. Stabe said the Sheriff's Office committed resources, the State Attorney's Office contributed vital legal advice in real time and the Town Council approved a budget amendment so officers could get the job done. "Everyone worked as a team," Stabe said.
Albrecht's defense attorney Bobby Guttridge is known to doggedly challenge the admissibility of any questionable evidence and to relentlessly needle witnesses on cross-examination over any small inconsistencies. Assistant State Attorney David Dodd said the evidence put forth by the Shores did not leave much room for Guttridge to work.
"They took a very conservative approach and got search warrants issued for everything, even if we didn't need to. That made it incredibly difficult to challenge anything," Dodd said. "They took their time and were willing to exercise the patience to obtain all the medical and the bank records to make sure that she (Albrecht) was charged properly from the beginning. There was no rush to judgment."
Dodd reviewed all the warrants drafted by Shores officers for legal sufficiency before they went to the judge. "The Shores put a tremendous amount of work into those warrants," he said. Dodd was also on hand when the initial warrant was served on May's home, enabling him to call upon the memory of being there when he presented the evidence at trial.
Shaw remembers that day nearly three years ago like it was yesterday – there's no washing away the memory of a horrendous crime scene. He also remembers the caution exercised. "Everybody stood outside until we found Judge Morgan to sign the warrant," he said, as it was after hours.
Assistant State Attorney Lev Evans, who heads up the economic crimes division for State Attorney Bruce Colton's office and who prosecuted the case with Dodd, added that the Shores officers did not come across as aggressive or threatening. "You don't need to try to polish Shaw, Sarcinello, or Hoyt.  They are humble and likeable," Evans said. "They are community police officers."
The law enforcement portion of the Shores Public Safety Department is primarily a proactive, community-policing agency and Rosell said he thinks the case of the exploitation and death of 81-year-old Marbrisa resident George May is a teachable moment.
"It's a happy ending that Gina Albrecht is going to jail, but it would have been a happier ending if the guy was still alive," Rosell said. "Over the next few months as our residents come back, Det. Kip Benham and I are going to go out and make a presentation to each association meeting about this."
Rosell is hoping this high-profile case will help start a dialogue about how to recognize the signs of exploitation and the abuse and neglect of vulnerable adults, about caregivers, and about protecting the financial interests of parents, grandparents or other family members who might be an easy target for scammers – or worse.
Stabe agreed that it's an important topic to address with residents. "I think it happens more often than we know, that kind of manipulation. People are ashamed and it never gets reported."