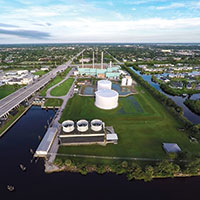 Vero should find much to like in latest FPL offer
STORY BYLISA ZAHNER

Vero officials lost no time in panning Florida Power and Light's proposal to pay $13 million for the Indian River Shores portion of Vero electric, but the fine print of the offer contains lots of interesting details.
According to the letter signed by Sam Forrest, FPL's Vice President of Energy, Marketing and Trading, FPL was undeterred by an unproductive meeting with the city leaders this past spring at which Vero officials produced a litany of reasons why selling the right to serve Indian River Shores customers was not possible.
"Since our initial meeting with you in May on the potential sale of the Town's electric system, FPL has spent considerable time analyzing data from several sources and looked at various scenarios," Forrest wrote.
Along with an actual dollar figure aimed at starting a haggling match over price this election season, the FPL proposal lays out a plan to overcome many of the objections city officials expressed.
The $13 million in cash that FPL proposed paying for the nearly 2,900 electric customers south of Old Winter Beach Road in the Shores would also cover any distribution assets "directly connected to the Town's customers" such as poles, feeder lines, transformers and service lateral lines which connect power from the street to the home.
The proposed execution date would be a very ambitious Oct. 1, with a closing of April 1, 2016, provided that all regulatory and other approvals could be obtained by that date.
FPL states that both the Federal Energy Regulatory Commission and the Florida Public Service Commission would have to sign off on the deal. The Shores would need to be written out of Vero's service territorial boundaries and into FPL's boundaries – something the Shores would seek to have done after a win in the Circuit Court lawsuit, which would go away should Vero agree to sell.
In response to FPL's proposal, Shores Mayor Brian Barefoot said it "offers an opportunity for the City and our Town to avoid the risks involved in protracted and costly litigation, and to finally put an end to our electric rate crisis."
While Barefoot said he still believes a sale of all of Vero electric to FPL would be the best solution for everyone, "such a sale is not currently possible because of the Florida Municipal Power Agency's continued intransigence. However, FMPA has confirmed that it would not interfere with a partial sale of the utility system in our Town.
"I strongly encourage the City Council to seriously consider the sale offer FPL has provided. While I understand that this is an initial offer, it undoubtedly establishes a framework for the City, FPL and our Town to participate in meaningful discussions that could produce a comprehensive solution that benefits everyone, including all customers of the City," Barefoot said.
The Shores rate consultant Terry Deason, a former member of the PSC, provided the Town an analysis showing that at the $13 million purchase price, if Vero used the money to pay down the debt of the electric system, the cash it would save annually on payments on that debt would match or exceed the roughly half-million Vero transfers to its general fund each year from Shores customers' electric bills.
Or, Vero could invest the $13 million and, provided the city got a decent interest rate, could use the proceeds to make up for the amount it current skims from Shores customers' electric bills help subsidize Vero municipal services.
"Under each approach, sale proceeds of $13 million could be employed to stabilize electric rates for the benefit of all the city's customers," Deason said in his report to the Shores Town Council. "Undoubtedly, there would be other beneficial uses of the sale proceeds. Based on their better understanding of the needs of the City of Vero Beach, the City Manager (Jim O'Connor) and the City Council could make those judgments."
Another option might be to use part of the $13 million to pay down debt, and use the rest to pay down the electric utility's portion of nearly $40 million in unfunded liabilities in the defined-benefit employee pension plan that Vero froze and closed out this summer. Annually, payments into that gaping hole amount to more than $4 million. Roughly one third of the employees in that plan work for the electric utility.
Should this Vero Beach City Council, or a more amenable one after November's election, decide to accept FPL's offer and find the best way to use the infusion of $13 million cash, FPL estimates it would take about six months after receiving all the customer data from Vero to set all the Shores customers up in FPL's billing system. All deposits held by Vero would be returned to Shores customers at closing.
Currently, all the equipment in Vero electric's portion of the Shores is designed to flow electrons from south to north, through Central Beach to the Shores. FPL would need to retool all that equipment, which Forrest estimates will take about 28 months.
While approximately $12 million in transmission upgrades are being made to fully integrate the Shores into FPL's current system which already serves the 20 percent of the Shores north of Old Winter Beach Road, FPL proposes paying Vero $300,000 per year, or $25,000 per month for about two years after closing, to "wheel" power up A1A from St. Lucie County through Vero's system.
After the transmission upgrades were completed, FPL would no longer need to wheel the power over Vero's transmission lines.
The cost per customer being proposed to be paid to Vero is about $4,500, which approximates the per-customer amount in FPL's earlier offer to purchase the whole of the Vero electric system. Adding on the estimated $12 million in transmission upgrades FPL would need to complete over approximately 28 months, the cost to FPL of the smaller acquisition goes up to about $8,000 per customer.
Deason also weighed in on how that number stacks up, as compared to other utility sales in Florida.
"FPL's cash offer of $13 million represents a per-customer price that significantly exceeds that which was determined to be reasonable for the purchase and sale of the South Daytona and Winter Park electrical systems," Deason said. "While each system sale has unique factors and must be evaluated as such, the FPL offer is certainly of the magnitude which would merit careful consideration and evaluation.
"The offer appears to be a bona fide one which would be beneficial to all stakeholders, including the City of Vero Beach, its customers, and the Town of Indian River Shores," Deason concluded.
On the flip side, Vero is stuck with some very unfavorable long-term power contracts and high personnel costs for salaries, health insurance and pension contributions.
With fewer customers among which to spread Vero's very high 85 percent fixed costs of providing service, rates could go up for the remaining customers should Vero not be successful in further reducing costs, shuttering Big Blue and solidifying a greatly improved wholesale power deal with the Orlando Utilities Commission.
Vero has the outline of a proposal from Orlando on the table, with details to be finalized in the coming weeks.
Surely, Vero's consultants will advise, as they reiterate from the podium, that there are "many moving parts" and that any action the City Council takes or doesn't take carries with it some inherent risks.
Anyone hoping for early City Council action on FPL's proposal is presumably in for disappointment.