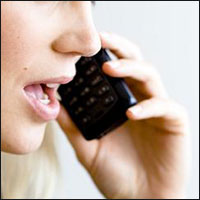 Warning: Police say phone scams abound
STORY BY LISA ZAHNER

Even with the doors and windows locked and security systems armed – even inside the gates of private communities – criminals are gaining access to island residents and their cash via the telephone.
The Vero Beach Police Department, the Indian River Shores Public Safety Department and the Indian River County Sheriff's Office have all received reports of local residents being targeted by various telephone scammers this summer.
"There are numerous phone and Internet scams designed by criminals to defraud unwitting victims. The defense for most of them is to constantly be reminded that if something sounds too good, if someone is offering you something for nothing, it is a scam," said Indian River Shores Public Safety Chief Rich Rosell.
Other scams are not designed to take advantage of greed or the desire to get a bargain, but to prey on the victim's fear, and love for family.
"There has been a troubling scam sweeping the country throughout the last few years. Criminals will make phone calls to targets claiming to have kidnapped a loved one, usually a child or grandchild. They will order the target to quickly, within minutes, transfer money to them or they will immediately kill the alleged victim," Rosell said.
"Sometimes the target is known to the caller, meaning that they know the target has a child or grandchild. But often the call is a 'cold call,' meaning that the target was selected at random, and the caller is just taking a chance that the caller has a child or grandchild."
Rosell said a cold call can go something like this:
Caller: We have your grandson.  We are going to kill him if you don't wire money to our account within 10 minutes.
Target: You have Billy?  Is he OK?
Caller: (Now knows the grandson's name)  Yes, we have Billy and we will kill him immediately.
"The scam is designed to pull at the heartstrings of parents and grandparents," Rosell said, and unfortunately, it often works.
"Targets have sent money to callers from other countries, as well as their own cities. Believe it or not, criminals have had success with this scam. If you receive a call like this, note the phone number on your caller ID, hang up, and call your local police department," Rosell said.
Vero Beach Public Information Officer Anna Carden posts known scams to social media and also distributes periodic news alerts to residents who participate in neighborhood watch activities and meetings. Carden recently sent out a warning about four scams that have been reported in Vero – the FPL utilities scam, the 90# telephone scam, the Microsoft scam and the Internal Revenue Service scam.
Summing the four scams up, Carden advised Vero residents "Always be aware of and cautious when being requested to provide any personal information."
In the FPL utilities scam, Carden explained that scammers take advantage of residents during a hurried and stressful time.
"For anyone in the process of selling their home, please make sure that you keep up date with your utilities company (FPL in this particular case) until the home is actually sold to the new owner. We have been informed that a potential buyer could call FPL and place their name on the account for a home, and there is not currently a verification process for this on their part. Make sure to call your utilities company every so often and check the status of your account."
Scammers use the guise of a telephone service provider as well in the so-called 90# scam. "This scam has been reported mostly by businesses and requires having a land line telephone. A person will call alleging to be from the telephone company working on technical issues or checking on calls supposedly placed to other countries from your line.
"The representative will then ask you to aid in their investigation by either dialing 90# or transferring them to an outside line. By doing so before you hang up, you may enable the caller to make phone calls that are billed to your office line."
What should someone do if they receive this call? Hang up. "The best course of action is to always hang up your receiver without dialing any numbers requested by the alleged technician. If you still have any questions after that, you should always call your telephone provider directly."
Setting up a computer, handling technical problems and keeping up with all the various updates can be frustrating enough without scammers capitalizing on the confusion. "The scam where an alleged representative from Microsoft either calls or e-mails you in reference to an issue with your computer is still prevalent in our area. Remember, do not provide any personal information or follow any directions on your computer," Carden said.
"If you follow their instructions, these individuals can remotely hack into your computer, install a virus, or steal personal information," she warned.
Tax problems? Carden says don't trust a sketchy call from the tax man. "Even though tax season is far behind us, we are still getting reports of alleged Internal Revenue Service agents that request that you make contact with them immediately to avoid a warrant for your arrest," Carden said.
"IRS would never contact you via telephone or e-mail. Do not contact the individuals back or provide any personal information 'to check your record'," she said.
The scammers pretending to be the IRS are bold, but the boldest of these crooks are even impersonating local law enforcement. In July, Sheriff Deryl Loar's staff posted on the agency's Facebook page that "a new twist on an old scam is making its way to the Treasure Coast."
The caller, claiming to be the police, threatens "you will be arrested if you do not pay money." Why would anyone fall for this? Apparently the scammers are using technology to make the threat more believable.
"When you look at the telephone number appearing on your cell phone or home caller ID system, the number may very well be that of an actual law enforcement agency. Some victims have even reported the caller's number showing up as 911.
"This is because the scammers use technology which allows them to make calls appear they are coming from whatever number they choose, even the actual number to the police, Sheriff's Office, FBI, IRS, or any other law enforcement or government agency," Loar's post said.
Payment is usually demanded in the form of a pre-paid credit card number. Once a charge is put on a pre-paid credit card – unlike a personal Visa or American Express with which the holder can dispute a charge – it's nearly impossible to get the money back.
"Legitimate law enforcement agencies do not operate this way. You cannot buy your way out of an arrest warrant and someone attempting to get you to do so is trying to steal your money," Loar's post said.
To keep up with a list of current telephone and internet scams, residents can periodically check the Federal Trade Commission's "Scam Alerts" page at www.consumer.ftc.gov/scam-alerts. Local law enforcement websites, Facebook pages and Twitter feeds also keep the public abreast of scams that are popping up in Indian River County.