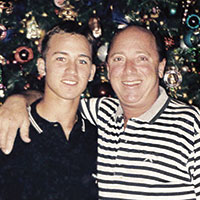 Hundreds attend mass for 'Joey,' the face of Bobby's
STORY BY RAY MCNULTY
PHOTO: Two Joeys: Joseph Kazen and his son.

No one who knew Joe Kazen, the general manager at Bobby's Restaurant for 34 years, was surprised at the standing-room-only turnout for his funeral mass at St. Helen Catholic Church two Mondays ago.
"There were people at the church I hadn't seen in 25 years, and I think that says a lot about him," said Bobby McCarthy, owner of the popular Vero Beach establishment where Kazen worked since its opening in 1981. "I can't think of anybody who wasn't there.
"He lived here a long time and knew a lot of people, and as long as I knew him, I never met anyone who didn't like him," he added. "He was just a nice guy, a friendly guy, and he was a big part of the success of this business.
"I could take off for a vacation and the place never missed a beat."
Kazen, 62, died at his Vero Beach home on Nov. 14 after a lengthy battle with stomach cancer, leaving behind his wife of 25 years, Shannon, and sons Joey, Matt and Chris. He was buried Nov. 23 after a private, family-only service at Our Lady Queen of Peace Cemetery in Royal Palm Beach.
Following the Mass at St. Helen, a reception was held at Quail Valley. Afterward, several of Kazen's friends stopped by Bobby's "out of respect for Joey," McCarthy said.
Former major league pitcher and retired Los Angeles Dodgers pitching coach Ron Perranoski, one of Kazen's oldest friends, said he visited the former golf pro a week before his death.
"It wasn't a good sight, but he fought it to the end," Perranoski said. "As weak as he was, he was still going to work a couple of months before he died. It's a shame.
"I first met him in 1975, and he always had a dynamic personality," he added. "He was always up, very enthusiastic about everything. We played a lot of golf together, and he wasn't just a terrific golfer, he was fun to play with. I know he played a lot with Sandy (Koufax), too.
"Joey was always offering to help you on the course, but that's just the type of guy he was. He'd do anything for you. I'm really going to miss him."
So will Eddie McLaughlin.
The former Wall Street wizard and longtime island resident said he met Kazen at Bobby's shortly after the restaurant opened its doors and, through more than three decades, never saw him in anything but a good mood.
"Even when he was battling the cancer, I never heard him complain about it in the saloon," McLaughlin said. "He still managed to keep a smile on his face and was still was great with the customers, and I know he was in pain.
"I remember I went back in the office with him and he told me, 'Eddie, my stomach is killing me. It hurts all the time' – and he didn't even have a stomach," he added. "They had already removed it. But he always tried to be upbeat.
"Not only was he a tremendous help to Bobby in running the place, but he was also great with the customers. He always went out of his way to make you feel welcome."
McCarthy said Kazen, who went to high school in West Palm Beach and attended Palm Beach Community College, moved to Vero Beach in 1974 and worked as an assistant golf pro at Vero Beach Country Club for six years.
He said Kazen also worked locally as a bartender before he hired him to run his restaurant.
"He was with me since Day One," McCarthy said. "He was here all the time – all through the great years when the Dodgers trained here – and everybody knew him and liked him, including a lot of the Dodgers.
"Joey did a great job for me, taking care of the payroll and ordering the liquor, all the stuff I didn't want to do," he added. "He was good at it, too. In all the years he was here, we never had a problem, or even an argument.
"He was a great friend and co-worker."
McLaughlin said Kazen "really wanted to live" and, just weeks before his death, "thought he had the cancer beat," only to learn doctors had found more tumors in his abdomen.
"They removed his stomach last March, but he never really turned the corner," McCarthy said. "They tried chemo and radiation. It was a tough year for him."
Finally, three weeks ago, Kazen succumbed, and more than 600 family members and friends packed St. Helen to say good-bye.
"I've been to a lot of funerals in that church, and I've never seen that many people there," McLaughlin said. "That's a reflection of how people felt about him.
"People just liked him," he added. "He was good old Joey."