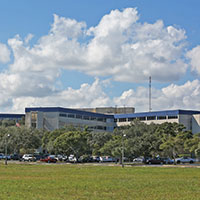 Story changes after hospital suit is settled
STORY BY MEG LAUGHLIN

A month after a lawsuit between the parent company of Sebastian River Medical Center and defendants Indian River Medical Center, its CEO and COO was settled and closed, Indian River hospital CEO Jeff Susi reopened the suit to correct a key date he had testified to under oath.
"I went through my deposition twice after the case was closed and wanted to correct the record," said Susi.
In early September in his sworn deposition, Susi had said he told Indian River's general counsel Val Larcombe between January and late February 2014 that Steve Salyer, CEO at the Sebastian hospital who was about to be hired by Indian River, had a noncompete clause in his Sebastian contract.
Since Susi offered Salyer the Indian River COO job on March 21, 2014, the date of the disclosure would have given attorney Larcombe one to two months to look into the noncompete clause and make sure it didn't present a problem. But documents in the case suggested that the hospital attorney did not research the noncompete before Salyer was offered the job.
It was the alleged violation of the noncompete by Indian River that was the basis of the lawsuit filed by Sebastian hospital's parent company.
But more than a month after Indian River settled the federal suit for an undisclosed amount and it was closed, Susi filed documents to say he had misspoken about when he told Larcombe about the noncompete.
In his correction. Susi wrote that he first alerted Larcombe to the noncompete on the same day he offered Salyer the job: "Friday, March 21st, 2014, probably after work hours and after meeting with Mr. Salyer that afternoon."
The last-minute notification might explain why the attorney did not to look into the noncompete.
In his correction, however, Susi did not address another statement he made in the same sworn deposition when asked if he spoke to Val Larcombe on March. 21, 2014 about Salyer. "I don't believe I spoke to Val," Susi said.
Susi now says he did speak to Val on March 21 and probably misspoke a second time in the deposition: "I was probably confused. We were working long hours at the time and I probably thought I spoke to her after midnight on the 21st," he said.
Documents in the case show that on March 21, 2014, Susi offered Salyer a total compensation package of more than $600,000, which included annual base pay as Indian River COO of $300,000, plus a 20 percent incentive bonus for reaching certain goals, along with an executive retirement bonus and other benefits, which, if similar to Salyer's predecessor Cindy Vanek, exceeded $275,000 a year.  
Salyer resigned from Sebastian River Medical Center on March 22, 2014 and took up his position at Indian River Medical Center 15 miles to the south in mid-April 2014.
In the 19 months that Salyer has been Indian River's chief operating officer, physicians point to numerous improvements he has made, including increasing employee and patient satisfaction at the hospital, improving efficiency, markedly cleaning up the hospital and creating a much-improved collegial atmosphere between hospital-employed physicians and independent physicians with hospital privileges.
Susi said he could not discuss "personnel performance" and wouldn't "comment on how Steve Salyer is doing."
But in his deposition, Susi said that most improvements under Salyer's watch as COO had more to do with his following through on what contracted consultants suggested, rather than on implementing his own ideas.
In the Indian River questionnaire Salyer filled out in late February 2014, he mentioned the noncompete clause in his Sebastian contract and said that his long range goal was "to be the CEO of IRMC after Jeff Susi retires."
Three months ago, Susi, 63, said in his deposition that he expected to remain CEO of Indian River Medical Center for the next "seven to 10 years."