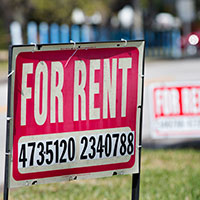 County now looking at vacation rental issues on the island
STORY BY LISA ZAHNER (Week of February 19, 2015)
Since a Central Beach crime spree last month churned up the issue of vacation rentals, the county is now looking at what can be done to stop renters from disrupting quality of life in residential neighborhoods on the north and south ends of the barrier island.
The County Commission last week voted 5-0 to direct legal staff to start drafting different options to address the issue of parking at residential homes in the unincorporated county being marketed as vacation rentals.
Dr. Miles Conway, who lives in a two-story oceanfront home on 1.8 acres near Round Island Park, made a presentation to the commission on Feb. 10 about a neighboring home being rented by the night to multiple families of vacationers, turning the neighboring property into a commercial parking lot.
The vacation rental, which can sleep 18 or so people and is often used to host weddings, is located on a half-acre lot, surrounded by three single-family, oceanfront residential properties.
"We have a commercial vendor-operator in a residential neighborhood which is impacting the quiet enjoyment of our lives," Conway told the County Commission.
"What would make our lives a lot more pleasant and livable than what they are at the moment, we felt that the two- or three-car restriction in the driveway that is in your code was quite effective," Conway said.
Commissioner Peter O'Bryan said the code currently limits residential properties to a maximum of three vehicles, plus an additional vehicle for each additional licensed driver. There are exceptions for special, occasional events like a Christmas or a Superbowl party.
Conway said enforcement of the code is haphazard at best, and that when there is a special event like a wedding hosted at the rental, Sheriff's deputies have the leeway not to enforce the code if, in their judgment they don't see the need to break up the party and force people to move their cars.
On a "good day," Conway said, there are nine or 10 cars and trucks parked at the vacation rental. On a "bad day," there are 30, 40 or even 50 cars, trucks, even buses and catering vehicles. He said the house is packed 22 to 25 weekends of the year.
"This is not about cars, it's about renters," said Commissioner Joe Flescher, pointing out that a private owner with a bunch of kids could have parties every weekend and invite 50 friends.
"You live in a very unique environment," Flescher said. "My concern is, looking at your isolated environment, to make a broad-scale ordinance might perhaps affect the ability of anyone having that type of event other than in your type of environment, which is a private environment."
O'Bryan said he's not proposing to restrict the occasional private party, but instead wants an ordinance to restrict parking at a residential home being used as a commercial activity like a vacation rental.
"If you're going to rent your house, theoretically you're going to go get a vacation rental license from the state and then you're a commercial enterprise," O'Bryan said.
"This parking is a symptom of what's happening with short-term rentals around here," said Dan Lamson, executive director of the Indian River Neighborhood Association, adding that he supports the measure O'Bryan proposed to address the issue through limitations on parking.
Conway said the county staff has issued citations, but when the matter went to the Code Enforcement Board, the Board decided not to enforce the county code.
The county code is the only way to curb the parking problem, Conway said, because there are no deed restrictions and no homeowners' association governing the handful of parcels in his residential enclave.
But Conway's problem is not an isolated one, as he said there are at least three homes in Ambersand Beach offered as vacation rentals, with some of the owners even posting "for rent" signs in the front yard or on the building.
Community Development Director Stan Boling said since 2012, the county has received complaints on seven properties. Those complaints have been turned over to the state, which regulates vacation rentals by licensure.
"My sense of things is that Central Beach has a greater number," Boling said, referring to the problem the City of Vero Beach is facing.
Now that Vero Beach is putting pressure on homeowners renting their homes out by the night or by the week, the vacation rental trade will "migrate into the unincorporated county," Conway predicted.
Vero Beach attorney Barry Segal, who represents Mitchell Dudek, the owner of the vacation rental, said he was overwhelmed by Conway's presentation, calling it an "emotional outpouring of all the things that are happening."
Segal reminded the commission about the restrictions on their ability to regulate vacation rentals, and said the home is being rented out by local families for reunions and weddings and also by groups of families in town with athletes playing tournaments at Historic Dodgertown.
"I think what you really need to focus on here is the law of unintended consequences," he said. "You're going to create a very long chain of events to correct a problem that doesn't really exist."