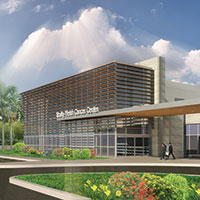 Scully-Welsh Cancer Center moves forward
STORY BY MEG LAUGHLIN (Week of February 5, 2015)
Indian River Medical Center's new Scully-Welsh Cancer Center, affiliated with Duke Medicine, is now projected to be completed by November of this year, according to its administrative director, Lori McCormick.
To date, 370 donors have given $36.8 of the $48 million needed to build, equip, staff and run the center, said IRMC Foundation President Jan Donlan. The bulk of the money came from two John's Island couples, Marlynn and Bill Scully and Carol and Pat Welsh, who each gave $12 million.
The foundation will hold more than 40 events this season – from donor dinners and cocktail parties to medical lectures – to raise awareness about the cancer center and bring the total closer to the $48 million goal.
While the building, renovation of existing facilities and staffing of the new center are running six to ten months behind the original 2013 projections, things are moving along well, and hospital administrators say they are excited by the progress of the Scully-Welsh Cancer Center.
On a sunny morning a few days ago, McCormick sat in a conference room in the hospital, talking about the great strides being made, while a backhoe hummed to the west and a construction crew installed the metal grating that will reinforce the foundation of the new attached 34,000-square-foot building.
This will house outpatient cancer services, an ambulatory infusion center for chemotherapy and a radiation treatment area, as well as medical offices and a library.
A 24-bed unit on the fifth floor of the hospital is being turned into a 14-bed unit for cancer patients, and extensive renovation of two operating rooms for cancer surgeries will begin in April.
McCormick, who was patient care administrator at M.D. Anderson Hospital in Orlando, joined IRMC in June 2014. Since then, she has overseen the hiring of six ambulatory infusion nurses, certified by the Duke Oncology Society, whose responsibilities include the administering of chemotherapy and blood transfusions to cancer patients.
Because local oncologists have their own infusion centers, most of their referrals to IRMC for chemotherapy occur because of deficiencies in patients' insurance, though a small percentage ask to go to IRMC.
That number is expected to grow when the new cancer center is built, and patients are able to receive chemotherapy in a well-staffed, comfortable and beautiful space.
The hospital has hired two cancer navigators, who are currently helping 91 cancer patients with medical resources and nutrition, as well as financial, social and transportation services. A third will be hired this year, said McCormick.
Recent hirings also include Wanda K. North as IRMC director of clinical research at the new cancer center and Scott Duncan as volunteer coordinator. 
"We are currently writing policy for clinical research trials, which will be conducted independently and, also, by partnering with Duke,"  said McCormick, who is also in the process of hiring a team of 15 nurses and aides to staff the in-patient oncological unit on the fifth floor of the hospital when the renovation is completed.
Currently, the new cancer program does not have a medical director. But McCormick said a few were under consideration. "We have some great candidates in the pipeline," she said.
The candidate who is finally selected is likely to come from Duke Medicine.
Meanwhile, support groups for patients and caregivers are being set up and staff is learning about the latest in palliative care. Recently, Duke oncologist Arif Kamal spoke to the medical staff at IRMC about beginning palliative care early in the treatment process.
Another part of the process is the tumor board, consisting of a team of local physicians, which, in consultation with Duke physicians, reviews X-rays and scans to decide on the best course of treatment for cancer patients. 
The new cancer center will be equipped with the recently purchased TrueBeam Linear Accelerator, which will be transferred when the building is completed. Currently, this state-of-the-art radiation machine is getting rave reviews because of its precise and accurate radiation technique, which works extremely well on Fourth Stage upper-body cancers.
The new center will also be equipped with the new ultrasound biopsy system for precise detection of lung and GI disease, the electromagnetic bronchoscopy machine for further detecting lung disease, the ultrasound aspirator for destruction of brain tumors and the digital pathology system for sending slides via computer for medical consultations with Duke and around the country.
"We are seeing such encouraging advances in the treatment of cancer – treatments with few side effects that prolong life – which will be available at the Scully-Welsh Cancer Center in one, beautiful location," said McCormick.
The dream of the center began in autumn, 2012, when Indian River Medical Center announced it was seeking $30 million in donations to build a cancer center. Six months later in May, 2013, the Scullys and the Welshes gave a total of $24 million toward that goal, propelling the dream into reality.
In a letter encouraging other prospective donors to give, Bill and Marlynn Scully wrote about losing so many members of their own beloved families to cancer and how the loss made them want "a significantly greater presence for cancer care" in Indian River county, where cancer is the leading cause of death.