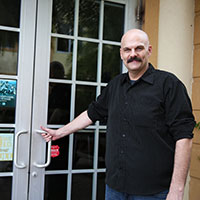 Brothers Bar & Grill will take place of Brewgrrs
STORY BY MICHELLE GENZ (Week of January 8, 2015)
Photo of Marc Bortnick
A virtually empty restaurant on a busy corner of Vero just didn't make sense to two brothers from Detroit.
Marc Bortnick has been running restaurants for years. His brother, Kenneth Bortnick, has eaten at plenty – and he's also a serious cook.
The space, a prime location at the intersection of Miracle Mile and Indian River Boulevard, seemed just the spot for a restaurant.  But where were the customers?
So the two of them sat at Cork, a nearby tapas place and watched the door of Brewgrrs, a burger and beer joint.
"We got a little hinky," says Marc Bortnick. "We were here for ten days and we would watch from Cork's patio and they'd go right through rush hour with maybe five people in there."
Opened a few years back by commercial pilot Robert Coburn, who was looking for a side venture, Brewgrrs never seemed to get off the ground. A few months ago, it went on the market but didn't close its doors.
The Bortnicks, knowing they wanted to move to Florida, had been eyeing some spots further south, mostly around Port St. Lucie. Then Vero realtor Billy Moss suggested they take a look at Vero. Moss works with Lambert Commercial Real Estate, which manages the Modern One building where Brewgrrs is located.
That was four months ago. On New Year's Eve, the Bortnicks were cleared to buy Brewgrrs.
The restaurant is about to become the far more euphonic, and with luck, popular, Brothers Bar and Grill.
The Bortnicks are hoping to open by March. They've hired Patricia Davis Brown to do the design, and are keeping the pub feel – who wouldn't, with 51 tap handles behind the bar, as Marc notes. "That's why we were interested in the space," says Marc. "Rarely are you going to find a bar with that many taps. We really want to hit the craft beer market."
Part of being "craft beer-centric," as Marc puts it, is being able to pair beer with food, putting a Pilsner with fish the way you would a Chablis, for example, or a chocolate-tasting stout with a fruit dessert.
Marc Bortnick has worked in the industry 15 years, from "server, bartender and chief bottle washer" as he puts it, to operating partner.
Much of that time was in Miami, where he moved after leaving Detroit in 2000. There, in the early days of the craft beer craze, he worked in a pub called Gordon Biersch in the lobby of a Brickell Avenue office building. Next, he went to P.F. Chang, the higher-end Asian fusion chain, and opened a restaurant for the chain in Naples.  Eventually he moved to Arizona and ran a chain of 12 neighborhood bars. Moving back to Florida, he's been working at Bru's Room, a Royal Palm sports bar owned by former Dolphins linebacker Bob "Bru" Brudzinsky.
His describes his brother as a stock trader – with enough money to eat out often. "He did a lot of traveling, and he would come home and buy all the stuff and cook dishes," says Marc. "He's a great conversationalist, and he would just ask people in restaurants for information."
Kenneth then opened a restaurant in a racquet club that did "very well," says Marc. "It got rave reviews."
Marc says the style of Brothers Bar and Grill will be upscale casual, with an emphasis on farm-to-table ingredients – no frozen appetizers, he vows. Fish, chicken and beef entrees will range from $25 to $30.
Brothers will be open for lunch. "What was missing at Brewgrrs was lunch business," he says. They plan to serve salads and paninis, since "everyone knows them from Panera." Brothers' will be bigger, he adds.
It'll be the first time Kenneth and Marc Bortnick have worked together since they opened a parking lot sweeping company in Detroit years ago.
The 150-seat restaurant will get an enlarged and improved patio space, thanks to an agreement with the landlord, Bortnick says. "We can use that space for office parties," he says.
The prolonged process to close the deal involved their coming up with a business plan and convincing landlord Brian Curley they intended to stick around. Curley oversaw the complex's extensive renovation from what for decades was the ModernAge furniture store. The redo was completed in 2010.
As proof of their commitment to stay, the brothers have bought a house in south Vero – and a third brother is moving down from Detroit.
"You cannot run a restaurant with an absentee owner," Marc says. "It just doesn't work."