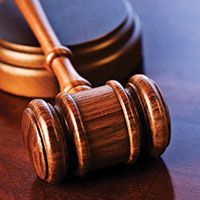 Shores hit with a federal lawsuit for sexual harassment
STORY BY LISA ZAHNER (Week of January 1, 2015)
The Town of Indian River Shores and several of its current and former Public Safety Department officers and supervisors have been served with a federal lawsuit alleging that, over a 15-year-period, they made a former female officer suffer a hostile work environment due to sexual harassment.
On Dec. 22, the Town, on behalf of all of the defendants named in the case, filed a response denying all of the allegations of harassment and discrimination. Further, the Town is requesting that the complaint be dismissed and that the defendants be awarded attorneys' fees.
The plaintiff, long-time Sebastian resident Samantha Haynes, was a triple-certified public safety officer with the town for nine years. She filed a complaint with the federal Equal Employment Opportunity Commission (EEOC) after she was terminated on April 24, 2013, for insubordination and neglect of duty. The EEOC issued no finding after 180 days, and, at Haynes' request, issued a "right to sue" document on Aug. 1, giving her a 90-day window to sue in federal court.
Haynes claims she was subjected to demeaning sexual comments, unwanted romantic advances and derogatory descriptions of her body by numerous co-workers and supervisors, some of whom have since retired from the department or moved on to work for other agencies.
Among the jeers and jokes Haynes said she suffered were comments made after she returned to work from breast implant surgery, which she said was performed for medical, not cosmetic reasons. She also claims she was intimidated and even once physically assaulted inside the Shores Public Safety Department, but the officer she accuses is now deceased.
Haynes also alleges her male co-workers were not disciplined when they harassed her or committed minor infractions or more serious policy breaches than those she was written up for.
A review of her personnel file provided by the Town in response to a public records request shows no written complaints of harassment or unfair treatment. The file does contain Haynes' detailed explanations of incidents that happened to her on the job which caused her to be questioned or reprimanded, such as accidents or mislaid equipment.
Among those named in the suit are Town Manager Robbie Stabe, who was previously the Public Safety Department Chief; former Interim Public Safety Director Mike Jacobs, who recently retired; former Public Safety Chief Bill Schauman; and current Interim Public Safety Chief Tony  Dudley.
Haynes also claims she was persecuted for a protected disability – her heavy and unpredictable menstrual periods. On more than one occasion, Haynes was on the job with a blood-stained uniform and was told to go home to change clothes, and one of the other officers made a joke about the incident.
When she was first hired by the Shores in 1998 as a firefighter-paramedic at a salary of $30,000, Haynes had worked as a firefighter and paramedic for St. Lucie County for four years and for private ambulance companies. The Shores sent her to complete law enforcement training in 1999 at the then Indian River Community College police academy to get triple-certified. 
Haynes claims the discrimination dates back to the police academy – when she was forced to bunk in separate, and in her opinion inhospitable, quarters because she was female. She says mistreatment continued throughout her tenure with the Shores.
In January 2000, Haynes was promoted to Detective and given an 8 percent raise, but went on maternity leave in July of that year.  She subsequently requested extended leave and ended up resigning. In her Nov. 20, 2000 resignation to then Shores Chief Hugh Cox, Haynes wrote, "It is with great sorrow that I leave your wonderful department. I have never enjoyed working anywhere as much as I have with you. The atmosphere you have created at the Shores is like no other. I was very happy, motivated and felt like part of a family."
She was hired back in 2006 at $46,000 and promoted to Sergeant in 2010. Her salary upon termination was $63,000. Before the incident that led to her firing, Haynes had previously been put on probation and demoted from Sergeant to Officer after she was written up for policy infractions.
On Dec. 19, 2012, Haynes responded to a call about an unresponsive person. The residence was in the Oceangate condos, just outside the Shores, so the call was supposed to be dispatched to Vero Beach, but since Haynes is a trained paramedic, she responded, found the resident deceased, pronounced him dead and canceled the Indian River County Fire-Rescue response. The Vero Beach Police Department then arrived and took over.
Haynes was required to file a timely report of the unattended death, even though the call was outside the Shores' jurisdiction. Haynes said she tried repeatedly to obtain needed information from the Vero Beach Police Department, but could not do so for six weeks "because of holidays, vacations and incompatible shifts."
Haynes eventually filed the report on Jan. 31, but the Town terminated her for "failing to comply with several direct orders from two different supervisors" and "failure to complete and important incident report in the time frame required."
In the dismissal letter, then Chief Stabe wrote, "The fact that you were recently disciplined for the exact same violation, which resulted in your demotion and being placed on one-year probation only increases my concern if I were to continue your employment. I remain convinced that it is unacceptable for anyone in this agency to disregard the lawful and proper direct order of a superior officer. This principle is at the very heart of preserving and maintaining good order and discipline and insubordination of this kind cannot and will not be tolerated."
Performance reviews in Haynes' file up to and including 2011, performed by Stabe and other supervisors, are overall favorable, saying she was doing a good or even an excellent job.
She was offered a detective position by Stabe in 2009, but declined. The two most recent reviews in 2012 by Jacobs and Dudley detail Haynes' reprimands. In September 2012, after she was demoted and experienced a cut in pay, Haynes told her bosses she was taking a part-time job at a doctor's office.
The Shores called in a county internal affairs investigator, Lt. Leroy Smith, to conduct a month-long probe before she was let go. Smith's conclusion was that Haynes was ordered to file the report on or before Dec. 25, 2012, and that she did indeed fail to comply with more than one direct order.
Haynes did not lose pension benefits or accrued sick and vacation time, but she claims that her alleged wrongful termination has made it difficult for her to obtain employment in her field.
The Town is being represented by outside labor counsel, Wayne Helsby of the Winter Park firm of Allen Norton and Blue, and by Douglas Noah of the Orlando firm of Dean Ringers Morgan and Lawton, assigned to the case by the Florida League of Cities, which carries the Shores' liability insurance.
In addition to the federal lawsuit, the Shores and Haynes have been engaged in litigation before the State of Florida Reemployment Assistance Appeals Commission. The appeals referee initially ruled in favor of Haynes, but the Town won its appeal. Haynes on Nov. 12 petitioned for a review of that appeal, which is still pending. 
In her appeal, the 47-year-old Haynes wrote: "I suffered years of abuse at this department but needed my career to raise my children. Please understand this is a male-dominated field and they wanted to hire a younger man to take my place."
In a side issue to the termination suit, the Shores was sued by two local residents because Haynes allegedly performed an unauthorized check of one of their driver's license records. News of that legal action, also still pending in federal court, came in after Haynes was terminated.