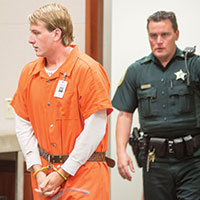 Dustinn Keeling jailed, but gets one last break from court
STORY BY MEG LAUGHLIN

Dustinn Keeling, the Haiti Club and North County Republican Club scammer, got a huge break in court last Friday when Circuit Judge Robert L. Pegg said he would continue to withhold adjudication so that he would not have a record as a convicted felon, even though he violated probation for grand theft and forgery when he was arrested for DUI on July 5.
Pegg did, however, sentence Keeling to six months in jail and warned him to stay out of trouble because this third chance would be his last.
"Don't come back here again because I can't help you," Pegg told Keeling, 24, who appeared in court in shackles and an orange jail uniform after 13 days back in jail.
Keeling was facing the possibility of 15 years in prison with the probation violation, but Pegg gave Keeling a third chance, he said, because Keeling completely paid restitution to his victims and had done 750 community service hours for volunteer work, which was "far above and beyond what was required."
In November, 2013, Keeling was convicted of the felonies after embezzling about $10,000 from two nonprofits where he volunteered as well as taking $20,000 from his aunt under false pretenses, then faking signatures and doctoring records to cover up the thefts.
The Haiti Club provides medical services in a slum of Port au Prince; the North County Republican Club, where Keeling was president at age 20, sponsors social events and talks for members.  
After two years in jail for those crimes, Keeling was released on probation and his record expunged. He has since worked as a bartender at several Vero Beach restaurants.
In the early hours of the morning of July 5, he was stopped for speeding on State Road 60, then charged with a DUI after he failed a roadside sobriety test. That case is still moving through the court system.