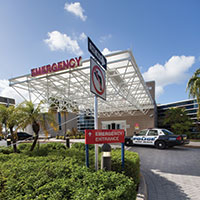 Emergency Room reports treatment times better; more upgrades on way
STORY BY MEG LAUGHLIN (Week of June 4, 2015)

Patients appearing at the Indian River Medical Center Emergency Room are being seen faster by healthcare professionals and getting discharged slightly more quickly than was the case two years ago, with only half as many walk-ins giving up and leaving before treatment, according to new data.
The latest numbers from the hospital, gathered from Dec. 1, 2014 to May 1, 2015, show the average ER wait until seeing a healthcare professional decreasing by 24 minutes and the average wait until discharge from the ER to go home decreasing by four minutes under the management of ApolloMD, which replaced Emergency Physicians of Central Florida a year and a half ago.
But the most dramatic improvement – the number of patients who get tired of waiting and walk out of the ER before being seen – decreased from four percent to two percent.
For those ill enough or badly enough injured to warrant admission, the average wait-time from being registered in the ER to being admitted was essentially unchanged, increasing slightly from five hours and 36 minutes to five hours and 40 minutes.
In what the hospital called an effort to "improve the ER" in 2013, it ended the contract with Emergency Physicians of Central Florida on Nov. 30, 2013, terminating ER physicians amid much controversy, and brought in Apollo MD to manage the ER and hire new physicians, including a few from the old group.
The beginning performance numbers under Apollo management during its first five months on the job, from December 1, 2013 to May 1, 2014, were disappointing – showing an increase from almost a six-hour wait to admission to a six and a half hour wait, the wait until discharge increasing by 30 minutes, and the rate of patients who left before being seen remaining at four percent.
At a recent hospital board meeting, staff reported on the challenges faced by the Emergency Room and steps planned or underway to improve performance.
Chief operating officer Steve Salyer said the hospital has 34 ER rooms for patients but needs 37 in the summer and 43 in the winter, and getting to that number had been "a struggle with the architecture." But, said Salyer, the hospital was adding nine rooms to get to the needed 43.
To further improve the ER, Salyer said, the hospital would add 16 more beds for taking blood pressure, temperature and other measures to diagnose and treat ER patients, would recruit a pharmacist and would form a "culture committee" to study how to improve "communication, morale and leadership" among employees.
Also, in June, said the COO, the ER would have 24-hour a day "phlebotomy coverage" to draw and examine blood.  And, in July a new ER medical director and associate director would begin working at the hospital.
Further, he said the ER computer system had become "more user friendly," and Apollo management staff planned to visit the medical staff offices more frequently to improve the relationship of doctors to the ER.
Asked by board chairman Wayne Hockmeyer about a survey of ER employees that showed low morale, Salyer said morale problems had been partially caused by the hiring of "people not as competent" as those already working in the ER during season in an attempt to deal with an increase in patient numbers.
"In season we were desperate for staff and were bringing in warm bodies to work in the ED. You can appreciate how that would frustrate you.  But you're starting to see smiling now," Salyer told the hospital board chairman.
"I call this a turnaround," said Hockmeyer. "The key is not to backslide or cynicism will sink back in very quickly.  Let's keep on this."