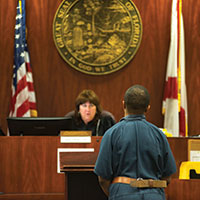 Indian River's Mental Health Court gets glowing reviews
STORY BY MEG LAUGHLIN (Week of June 25, 2015)

Mental Health Court in Indian River County has grown to 21 participants, all diverted from jail in the last six months in an effort to stop the revolving door of incarceration by getting mental health treatment for them.
Last week, half of them appeared before District Judge Cynthia Cox to talk about how they're doing. Almost all had glowing reports.
The few minutes they spend in front of Cox every few weeks is negligible compared to the time and effort that goes into getting them there.
Prior to the session in open court, a staff meeting with 16 people who play a role in their progress (including the judge, case workers, group home managers, assistant state attorneys, assistant public defenders, deputies and court administrators) gave a more complete picture of the enormous effort that goes into getting and keeping each client on the right track.
Doing the work up front, statistics overwhelmingly show, often turns people headed for a life of crime and incarceration into productive citizens, cutting down dramatically on the cost to taxpayers, who would pay an average of $90 a day to keep them in jail.
The thinking behind Mental Health Court is that treatment is the better route for the 64 percent of jail inmates across the U.S. who suffer from some kind of mental illness.
At their meeting last Tuesday, the Indian River Mental Health Court staff discussed the cases of several clients whose last names are withheld.
Sean, who was diverted to the court in January after an arrest for marijuana possession, is one of 12 clients on the A Team, which means he is complying in every way from being drug- and alcohol-free, to going to therapy and meetings, and staying on his meds and out of trouble.
David, also on the A Team, is one of the stars of the program. He has remained sober attending AA meetings and group therapy and has immersed himself in volunteer work, as well as taking on several computer consulting jobs.
"David is a great example of how staying busy helps," Cox told the staff.
Irene, diverted to the court after being charged with trespassing, is also on the A Team. "We're all nuts now from doing what it took to get her there, but she is good," joked one of the staff members.
Alice, well known to local police for public intoxication and disorderly conduct, is staying sober in her new residency program and reported that she is "unloading a lot of troubling stuff locked deep inside."
"I bet she'd love a drink right now, like me with a cookie," Cox said.
The team discussed whether one client's temper was the result of "being a total jerk" or being on the wrong meds. And what's with another client who is back in jail? Is it "mental health issues or behavior?" Should they work with them more or declare them in violation of their probation and kick them out of the program?
"We don't want to be a dumping ground for people who belong in jail," warned a staff member.
They discussed who needed drug testing and who needed a bus pass. Who needed to be in a residency program and who is not abiding by residency program rules, and how to engage more deputies with the program.
One client just lost her job. Another tested positive for marijuana. Another is doing great on his meds.  Another is totally into rehab and group therapy. The brother of one is leaving town and he'll need supervision. The mother of one can't drive him to court anymore. One requested permission to go on vacation. Another needs counseling.
"We fix one problem, then have four more," said Cox.
Cox's experience with Mental Health Court in St. Lucie County has taught her that the ultimate results are worth it. That program, which began in 2006, has served over 1,000 arrested people with mental illness and only 8 percent have committed other crimes after participating in the program, as opposed to a 78 percent recidivism rate in criminal court.
After the staff meeting last week, the court session began, with participants stepping up to the bench one by one.
Cox told Sean to keep up the good work. When David reported that he was enjoying the Mental Health Association's Drop-In Center and was volunteering, Cox told him: "I think the secret to success is staying active. An idle mind leads to issues."
When Irene stood before the judge, Cox told her she's glad she has her cat back and is doing well.
Alice proudly told the judge that she hasn't had a drink and is letting go of a lot of things. "I've started to cry – something I thought I was too hardened to do," she said.
"Surrender to the disease," Cox advised. "Good things come out of bad."
Then, Cox congratulated her for being on the A team.
"What does that mean?" asked Alice, a wiry blonde in her mid-50s.
"It means A for excellence," said Cox.
"Your honor, excellence starts with an E," Alice told her as the entire courtroom broke into laughter.
After the court check-in session, the clients resumed their drug- and alcohol-free lives, with prescribed meds, therapy, and volunteer work, and the staff went back to "poking their fingers in the dike," as one staffer put it.
Still, everyone involved is quick to say how reassuring it is to see how much the participants are improving.