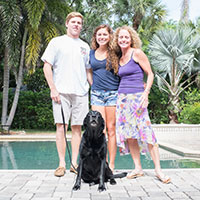 Simpson family touched by youth's plea for forgiveness
STORY BY MEG LAUGHLIN (Week of June 18, 2015)

With last week's sentencing of Darius Robinson, Kristen Simpson and her kids, Samantha and Scott, say they were able to put another sad chapter in their lives behind them.
What so touched them at the hearing, they said, was that Darius, now 20, asked to speak to them.
"The sentence and penalty were set so nothing he said would make a difference," said Kristen. "Still, he looked me straight in the eye and said: 'Ma'am, I beg your forgiveness.'
"I can't tell you how that helped," said Kristen.
In November, 2011, Robinson, then 16 in the 10th grade at Vero Beach High, went with Henry Jones, then 23, to break in and rob the Simpson home on Fiddlewood in Central Beach. Robinson, who was acting as lookout in the yard, ran into the home to tell Jones that a man was arriving unexpectedly.
When Brian Simpson walked through the front door and heard the intruders in his bedroom, he went toward them. The bungled burglary ended when Jones shot and killed Brian Simpson, 41, husband of Kristen and father of teens Scott and Samantha.
Jones and Robinson were charged four days later, after a sobbing Darius Robinson told police what happened.
"Without Darius there would not have been a case," said Kristen.
Jones' October murder trial hinged on the testimony of Robinson and ended with Jones' conviction and sentence to life in prison without parole.
At the time of Jones' trial, Darius was awaiting trial himself, after being moved to a jail in St. Lucie County because friends of Jones beat him up in the Indian River County jail and threatened to kill him for being a "snitch."
Pressing her hand to her heart, Kristen said, "It meant an enormous amount to us that Darius had the courage to tell the truth."
At his own sentencing last Wednesday, after pleading guilty, Darius was convicted of burglary of a dwelling with assault or battery and got 10 years in prison and 10 years' probation. The conviction and sentence were a downward departure from the first-degree murder conviction and life sentence he could've received.
"I trust the police and prosecutors and respect what they decided," said Kristen after the hearing.
As everyone was leaving the courtroom, Darius' mother approached Kristen and said, "Mrs. Simpson, I want you and your family to know that we are so, so sorry. We didn't raise him to do these kinds of things."
Those words along with Darius' heartfelt apology, said Kristen, have gone a long way toward helping her unload the hate and anger that have burdened her since Brian's murder. On Facebook, said Samantha, some people wrote that they were angry that the penalty for Darius wasn't harsher.
"But we don't feel that way," she said. "He was just a kid. He was manipulated."
In the months after Jones' conviction and sentencing, Kristen said she was surprised to find that she was angrier than ever. She had thought that she would feel a sense of closure, but instead, as the months went on, she was quicker to get upset.
An elementary school physical education teacher for 30 years, she would see kids breaking rules on the playground and take it upon herself to lecture them: "You don't want to be a rule breaker now," she would tell the children, "because it can lead to much worse things when you become a teenager and an adult."
But the sincere remorse that she saw from Darius and his mother last week helped her to soften, she said.
Thursday night, while making waffles together at home, the Simpsons talked about the immediate future: This summer, Samantha, a sophomore at UF and a marine science major, will go to New Zealand to study invasive species. Scott will play third base in Florida baseball tournaments and look at colleges in North Carolina. Kristen will stay close to Vero most of the summer, painting bathrooms and enjoying the home they all  shared with Brian for so many years.
"In our different ways, the three of us will try to be at peace," said Kristen.
And they wish the same thing for Darius Robinson.
With three years already served and a standard 15 percent reduction in prison time for good behavior, he should be out in five and a half years.
"I hope he takes classes in prison and learns a trade so he can eventually do something with his life," said Kristen. "Along with my kids, of whom Brian would be so proud because they are such fantastic human beings, Darius has helped me too."