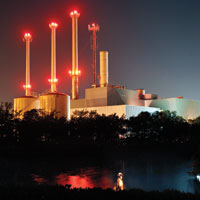 Vero now wants to trade in bulk power market
STORY BY LISA ZAHNER (Week of June 25, 2015)

Proponents of getting the City of Vero Beach permanently out of the electric utility business suffered a huge blow to their efforts last week when the City Council voted to seek proposals to purchase bulk power on the open market.
To embark upon this market-based approach that's been pushed by Mayor Dick Winger, who is asking to be re-elected in November, and by Vice Mayor Jay Kramer, who is running for Indian River County Commission in 2016, Vero would need to exit its 20-year wholesale power deal with the Orlando Utilities Commission and pay up to $50 million in early exit penalties.
According to Vero's expert advisors, the still-sketchy plan would involve Vero brokering multiple short-term power contracts with various suppliers, which could include OUC or Florida Power and Light. Those purchase agreements would be staggered to hedge the effects of market volatility like fluctuations in the cost of natural gas, or major shifts in supply and demand.
Vero, its elected officials and its consultants would in effect become day-traders in the commodity of electric power.
The best-case result, the Council was told, could mean a savings of $3.50 to $4 per month on the typical Vero Beach power bill.
Winger, who vowed in 2013 not to run for a third term but since has reneged on that promise, says he has traded in commodities for 40 years – soybeans, peanuts and rice – and that he feels the city fathers can and will do a good job purchasing power in the electric market.
 Kramer was a little more cautious, saying it would be beneficial for Vero to have options, and good to keep a handle on its power prices, "We might not be the best, but we definitely won't be the worst."
One Central Beach resident, outspoken gadfly Joseph "Buzzy" Guffanti, seemed to be the only person with the chutzpah to point out the absurdity of the Vero Beach City Council becoming commodity traders.
"I don't want you to speculate with my tax dollars and my electric rates," Guffanti said. "I'd appreciate it if you didn't speculate again."
Many of Guffanti's colorful diatribes from podium are borderline laughable – like when he infers that the Florida Municipal Power Agency electric co-op's business practices are akin to organized crime and calls the FMPA "a money-laundering operation."
But beneath the hyperbole, there usually lies some grain of truth in the criticisms of the caustic, long-time Vero resident and one-time candidate for City Council.
With the sale of Vero electric long abandoned and the current City Council taking a "damn the torpedoes" approach to defending Vero at any cost against the legal and regulatory challenges to its claimed permanent service territory encompassing part of Indian River Shores and unincorporated areas of the county, many of the more vocal critics of the city have, out of frustration, stopped attending council meetings.
Utility activist and CPA Glenn Heran is one of those people who has all-but given up on talking any sense into the Winger/Kramer-led City Council. But Heran weighed in after hearing of the move to go to market.
"What is the likelihood that the City of Vero Beach will be successful in that speculation? Given that Vero Beach must cut $20 million in revenue and cost in order to compete with FPL rates, what is the likelihood that this small government-run utility will be able to sustain that required level of high efficiency in the long run?" Heran asked.
"Given the history of Vero Beach's electric utility and the fact that the vast majority of elected officials generally do not possess the qualifications to be in the energy business (nor is it fair to expect them to have those skills), is it appropriate for the city to be in this business and take these risks with the public money?" he said.
"Surely if small government-run utilities could compete with FPL, then there would be data supporting this idea. But the data suggests the opposite."
Heran, who has spent literally hundreds of hours over the past seven years gathering and analyzing data on statewide rate comparisons, said, "In the last 16 years of available public records, Vero Beach's average residential user has paid 25 percent more that FPL.
"In fact there is no evidence that any of Florida's 33 government-run utilities have been competitive with FPL in the long run. In the last 16 years these munis residential rates have averaged roughly 20 percent higher than FPL. Today the average is 23 percent higher."
When giving advice to the Vero Council that includes a leap of faith into some risky endeavor, Attorney Robert Scheffel "Schef" Wright is always careful to include the disclaimer that it could turn out either way. Wright looks back upon Vero's other financial and utility debacles, praises the city for doing "what seemed like the right thing at the time."
The city's utility rate consultant rarely speaks to the council during Wright's regular briefings, but Bill Harrington, whom Vero put on the payroll last year to help get rates down as part of lawsuit mediation efforts with the Town of Indian River Shores, appears to be the mastermind of the plans to buy power on the open market.
City Manager Jim O'Connor said the bid packet should be ready by July 3 and that proposals will be due at the end of July. Wright said he's optimistic that Vero's team of experts will be able to bring back some definitive recommendations by September.
So as the mercury rises this summer, Vero ratepayers will just have to wait a few months to see the plan, and to see whether or not it will save big bucks in the short or long-term. One thing is certain among all this uncertainty, that Vero's "expert" advisors are already making long-range plans of how to spend their lucrative fees for advising the Vero's revolving door of non-expert council members.