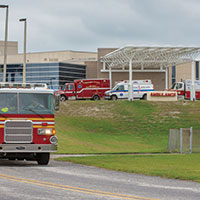 Ambulances turned away by hospital
STORY BY MEG LAUGHLIN (Week of March 12, 2015)

The phone call came into the Indian River County Fire Rescue control center about 1:30 p.m. the Sunday before last: Do not send anymore ambulances to Indian River Medical Center Emergency Room until further notice. 
"The hospital said they had over 20 patients in the ER and couldn't handle more. They were swamped, and we needed to divert patients to Sebastian, they told us," said county rescue battalion chief Cory Richter.
Over the course of the next nine hours, 17 ambulances that normally would have gone to Indian River Medical Center were rerouted to the Sebastian River Medical Center.
"We have processes in place to alert hospital leadership and affected departments so staffing can be adjusted to accommodate additional patients," said Sebastian River marketing director Angela Dickens.
"When Indian River has to divert, Sebastian is happy to step up," said Richter, the county's battalion chief.
The Indian River Medical Center emergency room's inability to handle peak needs during season has been an issue for years, and the subject of continued promises and efforts to improve.
But the March 1 diversion of 17 ambulances, with countless more walk-in patients walking out, suggests that the improvements are not enough to handle the volume of ER patients.
When asked for an explanation of why the diversions happened, hospital communications director Lewis Clark said: "The inpatient side was full."
Exactly what that means, however, remains unclear. The hospital officially has 335 beds, but some of them are in units that are closed for staffing reasons. Further, Clark said it is not appropriate to put a patient on a specialized wing when the patient doesn't have that diagnosis, which leaves some beds empty even when others are waiting for beds.  
But what the effective number of beds is at the moment remains a mystery.
Clark declined to provide further details, and also declined to make the emergency room managing director and the hospital COO available to answer questions.
A request for details on what the hospital was doing to "minimize diversions," as mandated by the American College of Emergency Physicians, also went unanswered.  
Dispatch records from the Indian River County Sheriff's office show that between 7 a.m. and 11 p.m. on March 1, 2015, the county had 66 EMS runs, and in one hour alone, between 7 p.m. and 8 p.m., there were 11 calls for ambulances.
"That's a lot of runs. That is incredibly busy," said Jeff Luther, the sheriff's chief of staff.
"Indian River Medical Center told us they were backed up and just couldn't handle more patients," said Indian River Shores lieutenant Mark Shaw.
As a result, two of the 17 ambulances that raced to Sebastian were from the Shores.
More than a year before the recent diversion, ambulances were also rerouted from IRMC to other hospitals on Jan. 25, 2014. That diversion spanned about six hours.
After the ambulance diversion 14 months ago, hospital CEO Jeff Susi apologized on the IRMC website and said that the problem would be fixed.
In an open letter last year, Susi said the ER was "the front door to our community" and that the "front door has been undergoing a difficult transition causing long waits." But he assured residents that fixing the ER was the hospital's "No. 1 priority" and that "we are working together to improve the Emergency Department."
In the wake of the diversion over a year ago, the hospital promised to be "more transparent" and post ED wait-times on its website. But that practice ended in December, 2014.
"I'm not sure why," said Susi in a brief telephone conversation. "Good or bad, we should have the numbers posted."
The hospital, however, did make some of the new numbers available to Vero Beach 32963 and Vero News, upon request.
They show that in January, 2015, average ED wait-times before getting to a room were five hours and 38 minutes – up from five hours and 27 minutes in December.
In February, the time increased again to six hours and 15 minutes.
Over the past three months, the average time to being admitted at IRMC from the ER was an hour and 15 minutes longer than the national average.
But average times until ER discharge at IRMC improved in January and February by about 32 minutes to 2:18, which was only six minutes more than the national average.
And, average times to see a healthcare provider also improved from 36 minutes in December to an average of 23 minutes for January and February, which was actually a minute better than the national average.  
As for the diversions, Clark said "IRMC's first priority is and will always be ensuring safety for the current patients at the hospital."