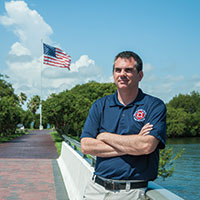 President of firefighters union relieved of duty
STORY BY LISA ZAHNER (Week of May 14, 2015)

As if the county and its firefighters union don't have enough to fight about, now the union president has filed a grievance over not being allowed to return to work after seeking treatment for exposure to toxic mold. The county is forcing the union president to use up his sick leave instead.
Firefighters had been working without a contract and both sides recently increased the pressure on the other to settle ongoing disputes over wages, benefits and other working conditions.
More than 50 Indian River County firefighters have submitted workers' compensation insurance claims for toxic mold exposure allegedly sustained in leaky fire stations and about a quarter of them have already tested positive for mold-related toxins in their blood.
When International Association of Fire Fighters Local 2201 President John O'Connor returned to work after being seen by doctors at the National Treatment Center for Environmental Disease in a suburb 30 miles north of Atlanta, and brought a doctor's note as department policy dictates, O'Connor got a big surprise a few hours later.
According to a grievance filed by O'Connor last week, Fire Chief John King went to Fire Station 12 and personally delivered a memorandum to O'Connor "relieving him from duty and forcing him to use medical leave until he could obtain medical clearance to return to work."
The memorandum, which Vero Beach 32963 obtained from County Attorney Dylan Reingold in heavily redacted form, acknowledges that O'Connor on April 10 requested he not be assigned to any of six of the county's 12 fire stations – stations with which O'Connor has environmental concerns – based upon his medical diagnosis.
O'Connor's home base is Station 7 on 12th Street and 82nd Avenue which is set to be razed and rebuilt, but he has frequently served as a "floater" filling in for vacations or other absences at multiple fire stations.
"We have redacted portions of the record," Reingold explained, "to maintain the confidentiality of information relating to the medical condition or status of any person covered by insurance benefits."
The memo from King to the union president goes on to say, "it is unclear that you can safely perform the essential functions of your position. In light of these concerns, you are hereby directed to have Dr. (Eric) SheinBart provide the District with (redacted) information no later than May 1, 2015. Due to the serious nature of these concerns, you are relieved from duty pending receipt of the above-requested information, effective immediately. During this time you shall be paid by charging your accrued medical leave."
When asked to explain the county's position, Reingold replied, "As this is a matter involving an ongoing grievance concerning sensitive confidential medical information of a county employee, the county is not in a position to comment at this time."
Since April 15, O'Connor has been using 24 hours of sick leave every third day that he would have been on duty, while trying to figure out what to do. So far he's used nearly 20 percent of the sick time he's banked over his past 15 years of service.
O'Connor claims King violated at least five articles of the union contract, including those dealing with union activity, rules and regulations, safety and health and medical and disability leave. In the grievance he requests that he "be made whole in all respects; that his sick leave be repaid for all hours since being relieved of duty, and that he be remunerated for any lost overtime opportunities missed in this absence."
The most outspoken member of the fire department, O'Connor has frequently called out Chief King and County Administrator Joe Baird at public meetings and in the media for what firefighters see as a coordinated campaign against the county's men and women in uniform.
Before becoming president of the union local, O'Connor was the firefighters' political officer charged with navigating the firefighters' strained relationship with top managers. Though firefighters are very wary about talking on the record about O'Connor's predicament, off the record they clearly see it as retribution, and as a warning to other potential troublemakers.
O'Connor is a long-time Vero Beach resident and graduate of Vero Beach High School and has a broad social and political network, both locally and regionally. Over the years, he's been involved in numerous charitable activities within the fire department and out in the community.
O'Connor has been the face and the voice of the firefighters and has partnered with people of all political stripes on various issues, such as the fight to stop the All Aboard Florida high-speed rail project, and has worked to elect and re-elect local and county officials who support public safety. He is active in the newly formed Indian River County Public Safety Council, a network of law enforcement, firefighters, paramedics and lifeguards, and teaches at the Treasure Coast Public Safety Training Complex on the Indian River State College main campus in Fort Pierce.
O'Connor and the union had been at impasse on the firefighters' 2013 contract since May 2014. Though union members last week ratified the contract terms approved by the Board of County Commissioners at a March 13 hearing, battles continue with stations in Orchid Island and Fellsmere under construction with firefighters in residence, and stations in Vero and in western Indian River County set to be gutted and repaired. Temporary housing for firefighters at two affected stations has been bogged down in red tape for two months. Modular buildings are still not move-in ready.
O'Connor says county officials are demanding he furnish them with a so-called "clean bill of health" before he can get back on the job. But he still has an arduous treatment regimen to complete – part of which is a protein- and plant-based diet (similar to the Paleo diet) designed to starve-out his fat cells and hopefully allow for the elimination of toxins stored in those fat cells.
Though not an especially pleasurable regimen, O'Connor says the diet plan is nothing that would keep him from performing his duties as firefighter, engineer and solo paramedic.
Should O'Connor manage to get a release from a medical doctor, the county's labor attorneys could then attempt to use that document to negate his workers' comp claim. That claim, if successful, could cover the costs of the mold treatment program – or at least get him some partial reimbursement – and provide some form of wage continuation while treatment is ongoing.
If he doesn't get clearance to return to work, O'Connor will continue to expend his sick time until his treatment is complete, or the sick time runs out – whichever comes first.
O'Connor says his concerns are not just about his own health, job and family. He's also a member of a tight-knit brotherhood of firefighters, and if county officials bench the publicly outspoken union president, any or all of the more than 50 firefighters who have submitted workers' comp claims for mold could face the same fate should they decide to start their own treatment.
Should the county apply the "unfit for duty" designation to every firefighter who has submitted a claim for toxic mold exposure, that would put nearly a quarter of the Emergency Services District's 220-odd firefighters out of commission.