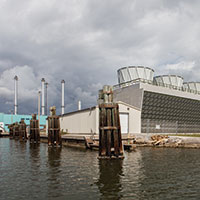 Shores pressing ahead with suit against Vero over electric
STORY BY LISA ZAHNER (Week of May 21, 2015)

With Indian River Shores and Vero Beach agreeing they're no closer to resolving their disputes over electric service than they were a year ago, the Town has refiled its suit against larger neighbor, streamlining its complaint to four main counts that include breach of contract for charging unreasonable rates and for failing to prudently manage its municipal electric utility.
On those matters, the Town is seeking a jury trial – one that could hold present and former elected officials and managers of Vero Beach accountable.
Another count – the question of whether or not the Shores should be permitted to exert its home rule power to provide electric service to the 80 percent of the Town's residents now served by Vero after the electric franchise expires on Nov. 6, 2016 – could be decided by Circuit Court Judge Cynthia Cox, possibly sooner rather than later, should she grant the Town's request for declaratory statement.
Shores Mayor Brian Barefoot, in a release summarizing the action, said, "the Town has been left with no choice but to move forward again with its lawsuit."
Vero, the Shores, and Indian River County officials participating as an interested party, had met numerous times beginning last August as part of a pre-trial mediation process mandated by the state when government entities sue each other.
During that mediation, active litigation was abated until March 2, with the abatement later extended until May 15.
After filing a motion stipulated to by Vero lifting the abatement of the lawsuit Monday morning, attorney Bruce May of the Tallahassee law firm of Holland and Knight filed a 19-page amended complaint, plus attachments, narrowing the focus of the suit.
What Indian River Shores decided to drop from the original lawsuit were two potentially time-consuming and distracting issues.
One of the counts eliminated was the Shores' argument that Vero violated a 2008 state statute known as the Stan Mayfield Bill when it failed to conduct a referendum of all named electric customers asking them if they wanted to be governed by a representative utility authority.
While the Shores seemed highly likely to prevail on this count, holding such a referendum now seemed like too little too late.  Few any longer believe a utility authority solves any of Vero Electric's problems.
The other count dropped was a related claim of constitutional disenfranchisement, arguing that a Shores resident, who subsequently was returned to the Town Council in the March election, had been denied the right to vote in the referendum that never happened.  That, too, now seemed a distraction.
With the referendum and the utility authority no longer at issue, Vero can presumably cease its exploration of an unwieldy process by which it was going to poll its customers.
The city can apparently also stop looking into how to set up a utility authority.
All Vero Electric ratepayers, including those in the Shores, have been paying for Vero to embark upon both of those adventures – neither of which had much hope of getting rates down.
Unreasonable rates – a characterization Vero officials and the Vero legal team publicly scoff at – are very relevant to the Shores' case that Vero has breached its 30-year franchise agreement signed with the Shores in 1986.
"Like its initial complaint, the Town's amended complaint addresses the unreasonable rates charged by the City and the Town's rights to protect itself and its residents from such rates. In particular, the Amended Complaint emphasizes the important legal issues at stake here, where one municipality – the City – seeks to assert extra-territorial monopoly power within the corporate limits of another municipality – the Town – without the Town's consent," Barefoot said.
Count one of the amended complaint asks Judge Cox to affirm what the Shores views as a matter of law, that the Town, as a sovereign municipality, has the right to either provide certain services – among them electricity – or to contract that out to a provider of its choice.
The Town argues it temporarily assigned that right to Vero for a period of 30 years via a franchise agreement, but contends the Shores maintains the power to re-exert that right after the franchise expires.
Count two addresses an anticipatory breach of contract, as Vero officials and the city's legal counsel maintain Vero has not only the right but the responsibility to serve its entire assigned electric territory, regardless of any franchise agreement that may be in place.
The Shores argues that this demonstrates the intent by Vero to violate the Town's rights. Town officials say Vero will have no right to operate within the Town or to use the Town's right of ways after Nov. 6, 2016.
Counts three and four, Barefoot said, "are based on the City's violation of the Franchise Agreement and violation of the City's general duties under Florida law, each of which requires the City to charge only reasonable rates and to prudently manage its utility in order to protect its customers from unreasonable rates."
The Shores is still requesting a refund of excess rates as damages for the breach, which the suit claims stem from Vero's string of inextricable bad deals ranging from the Florida Municipal Power Agency co-op membership to the more recent wholesale power contract with the Orlando Utilities Commission.
"The City has breached its duty to prudently operate and manage its electric utility by making a series of ill-advised utility management decisions, which include administering its electric utility power supply without appropriate hedging, interest-rate swaps, and other risk management protocols needed to mitigate fuel price volatility and keep electric power costs as low as reasonably possible," May states in the complaint.
By entering into these abysmal contracts, the Shores claims, Vero gave over all control of its customers rates to other entities – entities with whom the Shores does not have a franchise agreement.
"The City has also abdicated its operational and managerial responsibilities to entities with which it has entered into a number of expensive long-term power supply arrangements without appropriate oversight and due diligence. Those long-term power supply arrangements bind the City to above-market prices for an extended period of years," May said in the complaint.
The complaint concludes: "These and other imprudent management decisions have driven the City's electric power supply costs to excessive levels and resulted in the City charging unreasonable electric rates to the Town and other non-resident Customers."
Vero now has 50 days to respond to the suit – 30 days longer than the customary 20-day response time. During that same period, the Shores has requested that Vero entertain a good-faith offer from Florida Power and Light to purchase the Shores' customers and infrastructure.
Vero officials have rejected that idea out of hand, with Mayor Dick Winger calling the concept a "short sale."
As of Monday, FPL had yet to come forward with a dollar figure to dangle at Vero officials as a way to settle the Shores lawsuit, plus get an infusion of cash that might let Vero pay off debt or subsidize the city's general fund.