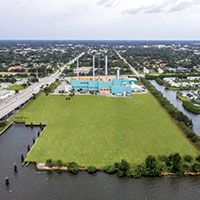 Cost of clearing the land on the river side of Big Blue estimated at $5 to $10 million
STORY BY LISA ZAHNER
PHOTO: An artist's rendering of what cleared land could
look like on river side of Big Blue.

When it comes to creating a pristine riverfront on the site where Big Blue now stands, the cost is currently estimated at $5 to $10 million – and that's without removing either the hulking building or the electric substation from the front of the property.
The best case, according to City Manager Jim O'Connor, is that it would cost about $5 million to clean up the site, and free up "green space" on the lagoon where tanks, cooling towers and other equipment would be dismantled and removed.
City officials say while Big Blue will not be fired up again, the process of taking the building down piecemeal – to preserve the critical components inside, which have some resale value – will take considerable time.
Employees have been told they should expect to have work until at least next July.
But beyond that, the city Finance Commission found out last week it would cost about $20 million to move the substation that is on the West side of Big Blue to another location.
Finance Commission member Glen Brovont, a local realtor with a career in the construction industry, expressed disappointment at hearing those numbers last week a month after the panel considered the new Orlando Utilities Commission deal in detail.
Brovont said the cost of shuttering and dismembering the power plant should have been presented as part of the analysis of the deal.
The City Council will take up the question of how to move forward in the coming weeks, with updated financials expected soon. And the Recreation Commission has scheduled a special workshop for Nov. 30,  right after Thanksgiving, to give the public a chance to express ideas on the future of the property.
Should the city find some commercial, tax-producing use that would necessitate lease or sale of the property, that would require a referendum to amend the city charter. The referendum approved 2-to-1 previously only permitted lease of the power plant site by Florida Power and Light as part of a deal to sell FPL Vero electric.