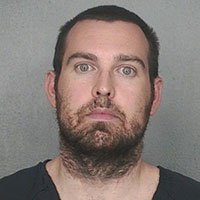 Accused slayer of Diana Duve fears dying in prison
STORY BY LISA ZAHNER
PHOTO: Accused killer Michael David Jones

Former banker Michael David Jones, who faces first-degree murder charges for the strangulation death of 26-year-old Moorings resident and Sebastian River Medical Center nurse Diana Duve, fears he will die in prison – one way or another.
Several hours of videotaped jailhouse visits with Jones by his former co-workers at Ocean Drive PNC Wealth Management employees – during the time he was held at the Indian River County Jail in August 2014 – depict a distraught but surprisingly rational and lucid Jones, still adjusting to his new life behind bars.
The videotapes of Jones communicating by videophone with his visitors, part of growing volumes of discovery materials in the case, were released last week.
Jones tells a former co-worker and friend that he had to be taken out of general population at the jail because someone had tried to kill him, and that he was hated by the other inmates and by the guards. Jones explains that he was isolated from the other inmates after the incident, which was better for his safety but which also gave him ample opportunity to ponder his fate.
The conclusion he reached in the days leading up to the grand jury's first degree murder indictment and State Attorney Bruce Colton's prosecutors' decision to pursue the death penalty as allowed by Florida law was that he would surely die in prison.
"I'm either gonna die in here from the threats I receive in here or the state's gonna kill me," Jones said, adding that the prison conditions, the violence, the necessity of hoarding food, the lack of personal hygiene and worrying about survival "literally turn you into an animal."
His resignation about being in prison until he dies came up in a more mundane conversation about the lack of things to do and not having access to television.
"If I go to prison, my understanding is I'll go to FES, which is like their maximum security and then I can buy a TV for myself because I won't ever be around anybody if I get the death penalty.
"I've been here just over a month and I can't imagine what 30 or 40 years would be like if that's what happens," said Jones, who will turn 33 next month.
During his solitary confinement in Indian River County, Jones complained about the tedium of the days and nights, with no television, at times no air-conditioning, only one book per week from the library which he said he finishes in a day, the unappealing food and the inability to shower more than once per week.
Jones expressed frustration at the scant time he had been able to converse with his attorney and about the feeling of being in an information vacuum, not having any clue what had been in the news or even what court dates he had upcoming. He said he neither knew the date nor time of day, as the lights were kept on 'round the clock in his cell and his sleep was disturbed every couple of hours by guards moving him around, by shrieks from mentally disturbed inmates or by other ruckus in the jail.
"It's four walls, no window, covered up, people screaming all night," Jones said, adding, "I just don't even care anymore – what else can they do to me?"
Jones, who appeared to be exhausted and weepy at times during the emotional visits, inquired about his friends and co-workers and how they were taking the news, and the revelations that he wasn't everything he'd represented himself to be around the office or in social circles. He asked if he'd been replaced yet at the bank.
He talked about his own personal grief over losing Duve and said he missed her very much. He broke down several times, took his distinctive, black-rimmed glasses off to wipe tears. At one point Jones got very agitated, shouting for a guard because the audio went out on the corded, pay-phone-type receiver he was using to communicate via videophone.
As the date of Jones' arraignment drew nearer, one close friend from PNC urged Jones to cooperate with police, to tell his side of the story and to try to mitigate the severity of his punishment. She never came right out and said the words "plea deal" or "guilty plea," but that is what she was encouraging her friend to do, to hopefully avoid being executed by the Florida Department of Corrections.
Jones is now being held in Broward County, where he awaits trial on violating his probation on a 2012 aggravated stalking conviction, plus a new charge of manual strangulation which arose out of investigators' probe into Jones' past after Duve was found dead in the trunk of her car in a Melbourne Publix parking lot.
Vero Beach Police were able to establish that Jones was just yards from where the car and body were found, as he was captured on video surveillance footage getting in a taxi, in which he rode back to his rented townhome at the Carolina Trace community in Vero where police allege Duve had been killed.
Both the aggravated stalking and the manual strangulation charges involved intimate-partner violence where Jones is said to have abused former girlfriends. After the disposition of those two cases, Jones will be returned to Indian River County to face a jury on first-degree murder charges, should he not change his current "not guilty" plea prior to a trial.