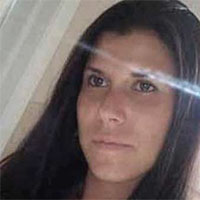 Case of missing Vero Beach woman, last seen on island, puzzles police
STORY BY LISA ZAHNER

Rachel Lynn Crenshaw is missing. 
The 33-year-old bank teller disappeared shortly before midnight on Sept. 26, after fighting with her boyfriend at a home they were visiting for a barbecue on Flamevine Lane.  She told him they were through, the two of them took their argument outside, and Crenshaw was last seen walking west toward Riverside Park.
She had no car, no purse, no cell phone, no credit or debit cards with her.  Her boyfriend, a mid-level supervisor for Croom Construction, told police he and his young son – who had come with them to the barbecue – drove around Central Beach looking for Crenshaw, but she was nowhere to be seen. 
The next morning, when she had not returned to the apartment they shared, he reported her missing.
Crenshaw's story, of course, isn't unique. Last year, 635,155 missing person reports were filed with the National Crime Information Center.  The vast majority of these were juvenile runaways, but some 53,000 reports involved women over the age of 21.
While most of these ultimately return home or are located by law enforcement officials, some seem to have vanished off the face of the earth under circumstances that leave police scratching their heads. 
This latest case appears to fall into the latter category.
At Mid-Florida Credit Union on State Road 60 where Crenshaw worked, neither her boss nor her co-workers at the bank have heard from her.
When officers tracked down Crenshaw's family members in Gainesville and in Ohio, none of them had heard from her, either. Her estranged husband told police the last time she was in contact with him or with her two grade-school-aged children was May of this year.
Police combed the Central Beach neighborhood, checking backyards and sheds. "We checked any vacant homes to see if maybe she had gotten into one of them, or if there was an open door or window or if anyone might have broken in and was staying there," said Lt. Matt Harrelson, the officer in charge of the Detectives working on the case. "We found nothing, no sign of her."
After Crenshaw had been missing five days, one tip came in from a member of the public, briefly causing a flurry of excitement among investigators. Someone called police to say a pair of women's underwear had been found just north of Riverside Children's Theatre.
When the Crime Scene Technician arrived and secured the panties into an evidence bag, it was determined they were far too large for a five-foot-five-inch woman weighing only 140 pounds.
Last Thursday, police searched the shoreline, waters and islands of the Indian River lagoon and found no sign of the woman. They searched again on Saturday, and again turned up empty. Nothing has shown up on the city's beaches, either, and drowning victims nearly always surface after a few days. "The lifeguards tell us if they find a body," Harrelson said.
Det. Dennis DeAcetis, who is working the case on the ground, confirmed Monday that there had been no developments in the case. Though police received a couple of calls from members of the public who thought they saw women resembling Crenshaw around town, those sightings turned out to be false alarms. With no new leads coming in, Harrelson said detectives are going back over what they've got to make sure they didn't miss anything.
The night Crenshaw disappeared after walking away from the barbecue, though she reportedly did not have her purse or cell phone, her boyfriend told police that she had his keys, which apparently had the only key to the residence the couple shared in the area of Vero Beach High School.
The boyfriend, after a canvass of the neighborhood looking for Crenshaw, collected his son from his friend's house and went home.
With that one and only house key gone, Harrelson said the boyfriend and the son "had to break into their own house." Police found evidence of them breaking in through a window and bending the frame of a screen in the process when the boyfriend voluntarily allowed police to search the home after reporting Crenshaw missing.
He also voluntarily submitted to a search of his vehicle. The boyfriend also turned over Crenshaw's purse and cell phone, which she had left at the friend's house, to be examined for clues.
All the searches turned up nothing of significance, Harrelson said, and the fact the boyfriend did not hesitate to let them comb the house and car for evidence was a good sign he was fully cooperating with the investigation. He also willingly agreed to be interviewed several times as detectives thought of more and more questions.
When police asked for his cell phone data and records, he volunteered that, too, and after analyzing that information, still no red flags sprang up.
After breaking into the apartment, the boyfriend and his son went to Wal-Mart on State Road 60 where they bought a new lockset for the door, changing the locks so they would have new keys. After the argument, the boyfriend told police that he was concerned about Crenshaw gaining access to the home and potentially removing some valuables. The boyfriend produced a Wal-Mart receipt and police pulled surveillance footage from Wal-Mart placing the father and son there on Saturday night around 11 p.m.
Crenshaw apparently never showed up to find herself locked out of the house. Police entered her information, description and photographs into the national database that tracks missing persons. They sent a press release to dozens of media outlets up and down the Treasure Coast hoping Crenshaw would get in contact with authorities, with friends or family, with anyone. She didn't.
When asked if Crenshaw was on any medically necessary prescriptions, Harrelson replied, "If you mean like she's a diabetic or something, no." When asked if Crenshaw was using drugs, had a history of substance abuse or had been involuntarily committed in accordance with Florida's Baker Act or Marchman Act, he replied that he could not release that information.
Mental health matters, even when police and the courts are involved, are generally shielded from public record.
What is in the public record paints a picture of a troubled decade or so for Crenshaw, troubles that followed her from Gainesville to Vero Beach.
Crenshaw filed for divorce less than three weeks prior to her disappearance, filing as an indigent plaintiff in order to have certain court fees waived. Her estranged husband, Benjamin Crenshaw of Gainesville, has been under a protection order not to contact his wife since 2011.
Court records show he violated this order, was placed on probation, but then violated his probation. He also served some time in an Alachua County Jail in the fall of 2013, and was sentenced to 45 days in an Indian River County court earlier this year. But police say that Benjamin Crenshaw was in Gainesville, along with the couple's two children, at the time of his estranged wife's disappearance, giving him an alibi.
Alachua County court records show that landlords brought eviction proceedings against the Crenshaws in 2008, 2008, 2010, 2011 and 2013. After relocating, Indian River court records show Crenshaw faced eviction proceedings in Southwest Vero as well in 2014.
Records show she was arrested and charged with possession of less than 20 grams of marijuana and possession of drug paraphernalia in 2004, and that she pled guilty to the lesser charge. Then in 2009 she was cited for a hit-and-run and leaving the scene of an accident, charges she addressed by completing a court-mandated course. Court records also show charges in 2009 and 2012 for driving without a valid license. In 2012 she was picked up for passing worthless checks, charges that were not prosecuted because Crenshaw made restitution.