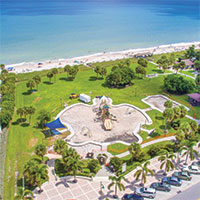 New playground huge hit at Humiston Park
STORY BY MARY SCHENKEL

GoPlayVero, an all-volunteer organization working with the City of Vero Beach, will soon officially unveil its first big initiative – the complete renovation of the Humiston Park Children's Playground – at a ribbon cutting Oct. 17. 
GoPlayVero was formed in late 2012 after an initial conversation between Kelley Della Porta, a mother of three frustrated by the deteriorating condition of playground equipment in local parks, and City of Vero Beach Recreation Director Rob Slezak. Della Porta recruited others equally interested in promoting the group's mission: "Improving our community one playground at a time."
After meeting with City Manager Jim O'Connor and Public Works Director Monty Falls to discuss proposed improvements and designs, they began actively fundraising in January and the community quickly responded. 
"When she came to me with their goal, I thought it would be a pretty long stretch," said O'Connor, "but I was very impressed with what she did, and the team she assembled. It shows the support this community gives to the city; it's really important."
GoPlayVero exceeded its $250,000 fundraising goal earlier than expected, enabling the purchase of playground equipment, extensive shading and other materials. 
"The response from the public has been overwhelmingly positive. We believe this underscores the fact that our community recognizes the need for more places where our children can go play," said Della Porta. "In addition, the response and willingness of the City of Vero Beach to partner and support our efforts has been extraordinary."
The city spent roughly $50,000 for concrete work, mulch and site enhancements, including a perimeter sidewalk and concrete borders to better delineate the playground's sea turtle design. The design had been reconfigured as part of a $1 million Humiston Park renovation in 2009, but no other improvements to the playground were made at that time.
After closing the park on May 29, city workers began working on the infrastructure, first removing dilapidated equipment ravaged by salty air, sun and time. Improvements started from the ground up, putting down ADA-compliant, carcinogen-free mulch to replace the sand. 
Other improvements included a broader assortment of equipment appropriate for children ages 2 to 12, and a separate shaded area covering twice the number of swings as before.
"The size and design of the playground equipment, now that I see it going up, is just overwhelming. I think it's just a great work; this is a major focal point now," said O'Connor.  "We want to make sure that we are providing the services that the community wants, and this is by far the best way to do it, with partnerships."
Contributions from the public were made through the Indian River Community Foundation, making donations tax-deductible, and through a Buy-A-Brick option, with people purchasing inscribed brick pavers to leave lasting legacies at the playground. 
"The best way to support our organization is to enjoy our beautiful new playground. Take your children or grandchildren to the new park and be amazed, as we are, by the incredible community in which we live," says Della Porta. Next on the GoPlayVero agenda are improvements to the children's play space at Riverside Park.