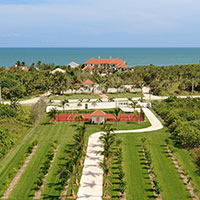 Oceanfront home sets year's high, selling for $17M
STORY BY STEVEN M. THOMAS

The highest-price home sale of the year so far, and one of the top sales ever on the island, closed last Friday for $17 million.
Located about a mile south of The Moorings at 1920 S. A1A, the multi-building, 15-acre estate includes a main house, guest house and carriage house with a total of 16,000 square feet of air-conditioned space.
"There is about 22,000 square feet under roof," says Premier Estate Properties broker associate Clark French, who developed the home in 2009.
"There are 8 bedrooms, 11 full baths and three half-baths," he added.
The main house has eight fireplaces, garages for eight cars, an oceanfront swimming pool and 155 lineal feet of frontage on the Atlantic Ocean and Indian River Lagoon.
Known as La Palmeraie, designed by Vigneault & Hoos Architecture and built by Water's Edge Estates, builders of the East End and Surf Club townhomes, the walled Côte d'Azur-style compound has steadily appreciated in price over the past six years.
According to public records, it sold for $11.4 million in 2009 and for $15.6 million in 2012, prior to the most recent sale for $17 million.
It is a measure of the property's magnitude that those transactions are the three top residential sales on the barrier island since 2009.
French and his longtime business partner Cindy O' Dare sold the house all three times, and represented both buyer and seller in the current transaction.
The buyer is a Vero resident who is relocating within the 32963 area, according to French.
He declined to give a name.  The seller was James Hart, according to county property appraiser's website.
The so-called Estate Section where the home is located is officially known as the Kansas City Colony Subdivision.
That area  extends from just south of The Moorings to the Indian River/St. Lucie county line, and it has been very good to real estate brokers French and O'Dare this year.
In April, they were the listing agents for a home built by Beachlen Development which was auctioned off by Concierge for $9.3 million.
Shortly afterward they sold a similar-sized Beachlen house next door to the auctioned home for $9.25 million.
They also sold a lot in the same development for $3,375,000, representing buyer and seller in both transactions.
"The sale of 1920 A1A is another indication of strength in the luxury market on the island, and is also a testament to the property, which has held up and continues to attract very discerning high net worth buyers," says French.
"The house has helped establish the Estate Section as a great place to live," he added, "and indeed the area now has some of the finest homes in Florida."