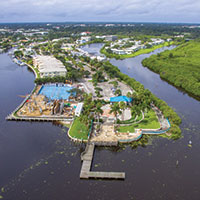 Quail Valley sparking Royal Palm Pointe renaissance
STORY BY STEVEN M. THOMAS

The new Quail Valley Club hotel and restaurant rapidly taking shape at the end of Royal Palm Pointe has stirred up intense interest in property on the peninsula and shows signs of sparking a general renaissance in the area.
"This could be the catalyst for the resurrection of Royal Palm Pointe," says Cheryl Gerstner, a broker associate with Alex MacWilliam, Inc. who had her own real estate office there for several years.  "It could become a real destination and adjunct to the oceanside village on the island."
New shops and restaurants are opening along the half-mile strip and investors are eagerly pursuing opportunities to build luxury townhomes and condominiums, hoping to repeat the early success enjoyed by Fred Peters when he built the 18-unit Royal Palm Pointe Condominiums, which were a big hit when they came on the market in 2005, with top-floor units selling for more than $2 million.
"In Vero Beach, anything Steve Mulvey and Quail Valley do draws attention. Once Quail Valley is interested in an area, others are as well," says Billy Moss, a broker with Lambert Commercial Real Estate, who has several listings on the Pointe. "There has been a huge upsurge in activity out there, and I think Royal Palm Pointe will be one of the next big development areas."
"We have had heightened interest in our building due to the Quail Valley project," says Karen Gaskill, a broker associate with Coldwell Banker Previews International, who has the 10,000-square-foot building at 21 Royal Palm Point listed for $2.5 million. She says she has had multiple offers from investors interested in building waterfront townhomes, and that the property is now under contract to a group that plans to build luxury residential units that take advantage of "amazing river views" and proximity to shops and restaurants.
Broker Jerry Van Ausdall says he had eight inquires and two showings in the first week after he put a for-sale sign up in front of the shuttered Dockside restaurant in September. An investor now has an option on the property with the intent of building townhomes or condominiums.
Vero Beach Planning Director Tim McGarry likes the idea of new luxury residential on the Pointe. "We would like to push for mixed use, with retail, restaurants and other activity on the first floor and residential above," he says.
The City's 2005 Vision Plan called for a special zoning district on the Pointe to facilitate innovative mixed-use development, and McGarry says he hopes to include something like that in the Comprehensive Plan update he is working on. That update is due sometime early next year.
The economics seem to make sense for luxury housing. For example, Gaskill's 21 Royal Palm Pointe building sits on a .57 acre lot with 200 lineal feet of water frontage. The property is zoned C-1A, which means 15 units per acre up to three stories in height are allowed. The means a developer would be able to fit seven or possibly eight units on the property.
If the units sold for $1.5 million, that would amount to a project value of $10.5 million with seven units or $12 million with eight.
Premier Estate Properties broker associate Clark French, who has been involved in a number of waterfront townhome projects, says developers can only afford to pay 20 percent or at most 25 percent of project value for land.
Under those criteria, Gaskill's property would be right on the bubble with seven units and fairly comfortable with eight units at the asking price of $2.5 million, but the property can likely be had for less than asking.
Sources say the building and land were offered to Quail Valley for $1.8 million. At that price, a capable developer could do very well with seven $1.5 million units.
"If you get the right team in there and offer the amenities that buyers want, you have a good shot in that location," says Peters, whose three sold-out buildings are located a few hundred feet away.
Quail's private hotel and restaurant is the club's third facility in Vero Beach. Mulvey and his partner Kevin Given opened a dramatic links-style golf club northwest of town in 2001, featuring a magnificent clubhouse and state-of-the-art practice and training facility.
In 2003, the partners opened a riverfront campus on the barrier island in Central Beach that offers a marina, tennis, swimming pool, fitness center, spa, restaurants, overnight accommodations and a range of other services and activities, helping make Quail one of the most popular and highly-regarded non-residential clubs in Florida.
The new property on the former site of the Lobster Shanty restaurant will include a two-level parking facility with 60-some spaces, a small private three-story hotel with 11 two- and three-bedroom suites for the use of the club's 935 members and their guests and families, and a striking octagonal restaurant that will have 7,000 square feet of air-conditioned space with another 3,000 square feet of covered veranda for outdoor dining.
Both the hotel and restaurant will enjoy sweeping views of the Indian River Lagoon.
"We are ecstatic over the reaction of our members," says Given. "They love what we are doing over there."
Quail paid $3.5 million for the prime 1-acre site last year and Given says construction costs are in the $10- to $12-million range, with completion of the Carolina Low Country-style buildings slated for next summer.
A custom-built 26-person launch will ferry members and guests back and forth every half hour between Quail's River Club and the Royal Palm Point campus. The boat is under construction at Crosby Yacht Yard in Osterville, MA, on Cape Cod, the same boatyard that built President John F. Kennedy's iconic sailboat Victura.
"I think the members are more excited about the launch and ferry service than about anything else," Mulvey says.
Given says the new casually elegant restaurant, which will feature lots of seafood and local produce, will be a major convenience for the club's 400-some members who live, work or serve on non-profit boards on the mainland, allowing them to dine at their club and entertain clients and colleagues without making the trip over the Barber Bridge to the barrier island.
Along with the cachet conferred by Quail's imprimatur on the peninsula, it's the increase in desirable traffic that will be generated by Quail members traveling to and from the club, along with the presence of guests in the hotel, which stands to benefit Royal Palm Pointe merchants, feeding into an ongoing restaurant and retail revival.
The Pointe has a checkered past over the last 20 years.
Up until 1995, the peninsula was a heavily-trafficked causeway leading to the old drawbridge that connected the mainland to the barrier island.
When the "new" Barber Bridge opened that year, and the old bridge was demolished, Royal Palm Pointe became a dead-end street desperately seeking a viable economic identity.
"Before they moved the bridge, this was still part of Route 60," says Grady White dealer Brian Cunningham, whose business Vero Marine Center has been on the Pointe for decades. "We are talking thousands of cars. We lost that traffic."
The city tried to turn the Pointe into a destination, upgrading parking and landscaping and building the Royal Palm Pointe Park and Fountain, which turned out to be a popular attraction, drawing hundreds of families each day in the summertime, according to Vero Recreation Director Rob Slezak.
But the area did not thrive.  "We have had some adversity to overcome, starting with the bridge moving," says Cunningham. "Then we got hit with a couple of hurricanes in '04, followed by some tough economic times in '08 and '09."
"The area has suffered," says Gerstner. "A lot of retailers came and went. When Fred Peters built his condos, there was some hope it would spark a revival, but then the recession hit."
Vero's Vision Plan opined that Royal Palm Pointe "has the potential to become one of Vero Beach's and Florida's most innovative mixed-use districts," and maybe the time has finally come for that to happen.
The location is beautiful and convenient to both Miracle Mile and the Beach. Slezak says the city is undertaking a major renovation of the park fountain scheduled to be done by spring break 2016 that will restore the property to its glory days, and, he hopes, attract more visitors. New businesses are opening, including a Cajun Restaurant slated to debut in mid-October and the prospect of luxury housing and more foot traffic seems real.
"The Pointe is finally beginning to come into its own," says Cunningham. "For the first time since the bridge moved, you're starting to feel a little more of a buzz."
"Quail Valley will add a lot of good traffic as members come and go," says Ron Rennick Sr., whose auction and real estate business has been located on property he owns on the Pointe since 1991. "[Royal Palm Pointe] is going straight up!"
"We are the lead dog," says Mulvey, who along with Given, believes their project will be a major factor in stimulating development on Pointe, helping transform the peninsula into a vibrant mixed-use district.