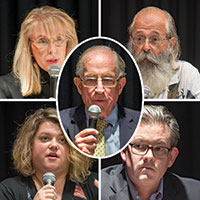 Two incumbents seek re-election in Vero Council race
STORY BY LISA ZAHNER | NEWS ANALYSIS

Are you better off now than you were two years ago? It's a catch phrase often heard in presidential campaigns, but a variation could be applied to this year's Vero Beach City Council race.
Is Vero Beach better off than two years ago, when voters gave Mayor Dick Winger and Amelia Graves the nod?
At two candidate forums hosted this month by the Tea Party and the Taxpayers' Association, Winger and Councilwoman Graves stood on their records.
But three challengers think Vero's worse off today.
Property taxes and municipal spending are up nearly 24 percent over last year's rate. On top of that, the city is on the verge of asking residents to approve and pay a stormwater utility tax that Winger has said might cost residents from $5 to $9 per month on their utility bills.
Vero is no closer to getting out of the electric business than it was in 2013, plus it's bogged down in a new troublesome entanglement with Orlando Utilities – attempting to correct a previous bad deal by digging the hole even deeper.
Outspoken former councilman Brian Heady, local insurance broker Harry Howle and retired marketing executive Laura Moss are all well-versed on the issues, and did not pass up any chance at the debates to criticize the actions and failures of the Winger-led council.
Both Howle and Moss also spoke on Monday before the City Council's vote to approve the latest bad OUC deal.
Howle brought up painful memories of unkept promises by other councils. He held up a clipping from a news article from the era of the 2008 OUC contract promising that rates would soon be less than or equal to Florida Power and Light.
"I think we should be doing what's right for the taxpayers and I hope you don't sign this contract," Howle said. He believes some of the provisions of the contract would make it tougher to unload Vero electric to FPL should the Florida Legislature find a way to disband, or at least loosen the noose of, the Florida Municipal Power Agency.
Moss, who serves on the Utilities Commission and who on Monday was praised by the city's lead utility attorney for her insightful questions and suggestions, said there was a lack of due diligence leading up to the OUC deal because Vero was not permitted to get competing bids after OUC threatened litigation.
"At this point we were forced into negotiating with a party who has basically held us hostage," Moss said.
Vero's rates, even with the meager decrease that will result from the new OUC deal, will still be about 30 percent higher than FPL's. But besides the electric issue, there are lots of other areas where the city has remained stagnant, or even fallen behind, over the past two years.
The number of city employees has been reduced, but personnel costs are on the rise. The council approved 3 percent across-the-board raises for employees this year, which Graves and Winger say employees deserved, but which challengers say was not a good enough reason to raise taxes.
Howle and Moss both said they would have voted against the tax increase, and that they would have gone back through the budget and trimmed until the right balance was achieved. Heady simply said he would tell City Manager Jim O'Connor to bring back a budget that didn't raise taxes – and if he didn't do it, he would ask for O'Connor's resignation.
Winger and Graves cite crumbling infrastructure and long-postponed maintenance as the reason why residents will be paying more taxes this year. On top of that, healthcare premiums for municipal employees increased and the city is now paying into two different pension plans – the nearly $40 million hole of its frozen defined-benefit plan, plus providing a nearly-unheard-of 9 percent employer contribution to the new plan.
Work the city has done to protect the Indian River Lagoon was also touted as an achievement during Winger and Graves' term. Winger specifically brought up the city's strong fertilizer ordinance as an example.
However, the fertilizer ordinance was approved on a first reading in October, 2013, prior to Graves' election, and it was a pet project of Councilwoman Pilar Turner and strongly supported by former councilwoman Tracy Carroll, whom Graves defeated.
Lastly, Winger and Graves in 2013 campaigned on a promise that they would get rid of short-term vacation rentals in the City of Vero Beach. They have done no such thing.
What they have done is pass legally questionable changes to the city's ordinance, and put the Vero Beach Police Department in charge of determining whether owners or short-term renters are sleeping in Vero's residential neighborhoods.