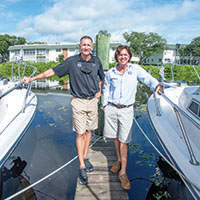 Boat sales are booming, and Vero Marine adds a new line
STORY BY RAY MCNULTY

Another sign the economy is humming?
Local boat dealers are reporting strong sales, even through the usually slower summer months.
"No question, we're up," said Brian Cunningham, co-owner of Vero Marine Center, which has been selling boats at its Royal Palm Pointe location for 56 years. "The past three summers have been better than our typical summer, and this year has been a lot like last year."
Cunningham credited Vero Marine's strong sales to the products he represents, which include Grady-White, Southwind Deck Boats and Yamaha outboards.  And just this month, Vero Marine added Robalo Boats, known for building the world's finest premium quality fishing boats, to its product line.
"There's not a dealer out there who wouldn't want the products we sell," Cunningham said. "The manufacturers have stepped up with new products and new technologies, and we're the only five-star shop on the water."
Many local businesses struggled through the last economic downturn, and Vero Marine was no different: Sales fell off as consumer confidence waned and bank financing became more difficult.
"What we sell here is not necessarily a necessity," Cunningham said. "You don't have to buy a boat."
So even when the economy began to improve, consumers didn't rush out to purchase items they didn't need – especially big-ticket items such as houses, cars and boats.
"For a while, even after the recession began to ease, people were still mentally bruised," said Mark Castlow, owner of Dragonfly Boatworks on Aviation Boulevard. "They weren't spending money and were cutting back on what they were spending on recreational activities.
"But that's changing," he added. "Everybody's attitude is up again, and that's exciting to see."
Castlow said he began seeing an increase in business toward the end of 2014, and that trend has continued – with the sales of boats and paddleboards "running neck-and-neck right now."
Cunningham, too, said he has noticed boating customers seem to be more willing to make purchases now, adding that it also has become easier to get bank financing.
"Normally, during good times, 60 to 65 percent of our customers are cash buyers," Cunningham said. "But we hadn't seen the non-cash buyer for a while. Now, the banks are loaning money again, and we're seeing more financed purchases.
"It's all connected," he added, "and it all starts with people having more confidence in the economy."
Another reason?
Vero Beach's population isn't quite as seasonal as it was when the calendar struck 2000.
"More people are living here year-round, and the snowbirds who come down are staying longer," Cunningham said. "A decade ago, 75 to 80 percent of our sales were made from October to April, maybe into May. But the last three years, our slow time has gone from five months to one or two."
Those factors have helped the local housing market recover, and they've done the same for local boat sales.
"We've seen good times and bad, and we're still here," Cunningham said. "But it's really nice to see a positive trend."