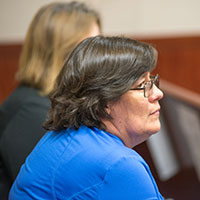 Daughter: George May robbed of his own grave
STORY BY LISA ZAHNER

Patty Corapi, daughter of the late 81-year-old Indian River Shores resident George May whose caregiver was sentenced this week on a manslaughter conviction, did not testify during Gina Albrecht's July trial, but she has a lot to say about the slow torture her father endured at Albrecht's hands.
Corapi said she feared that she'd come off as "too mad" to the jury to take the witness stand, but the only child of May and his widow Catherine wanted to read a letter to Judge Robert Pegg at Wednesday's sentencing in Vero.
"My father died a systematic, horrible death," Corapi said last weekend, going over the thoughts as she began putting them down on paper.
After being in Albrecht's care for about a year and a half, May was found dead in his home, weighing only 101 pounds and looking as emaciated as a victim in some horrific scene from a Nazi concentration camp; even his pacemaker was visible though his skin-and-bones corpse when police got to the scene.
Indian River Shores Public Safety officers said they found a sink full of dirty dishes crawling with maggots, and only stale, rotten food past its expiration date in the kitchen.
Testimony in court presented evidence that Albrecht, who had been living in May's Marbrisa home with her husband Ryan and two daughters, had moved out roughly two weeks prior to May's death, leaving him there to waste away from malnourishment and dehydration.
Records of entries in the gate security system at Marbrisa indicate that Albrecht likely came back every few days, not to render aid or call 911, but to see if May had died yet.
By that time, prosecutors say Albrecht had achieved her goal and was finished with May. He had nothing left to give – at least in his lifetime. Only through his death could she reap the balance of the spoils of her crime.
In the end, George May did not even retain title to the burial plots he and his bride had purchased in which to be lowered to rest in peace. Those, too, went with his estate. Corapi found out, to her horror, that her father had been robbed of his own grave.
Evidence presented by prosecutors showed that Albrecht had taken advantage of May's loneliness after his wife died, sexually seducing him and leading him to think that they were engaged and that as soon as she left her husband, they would be married. She also exploited his impaired judgment due to the onset of dementia, as evidenced by test results and doctors' testimony.
By the time May died, Albrecht had cleaned out his bank accounts, pilfered his valuables and had convinced him to change his will, disinheriting his own family members and leaving everything, including the Marbrisa home, to her.
Proceeds from the sale of the home this past January apparently afforded her top-notch legal representation in defense attorneys Charlie Sullivan Jr. in civil matters related to the estate, and Bobby Guttridge in the criminal trial.
Corapi, as she prepared her letter, described how Gina starved the poor man over time. "She (Albrecht) hospitalized him for malnutrition twice," she said. "He kept wondering, 'Why am I always getting so sick?'"
Sickened every time she thinks about how her father languished in his desperation, unable to call for help, Corapi pointed to the tragic irony of her father being methodically starved to death by a woman who'd had lap-band surgery. "Did you know my father paid $30,000 for Gina to have liposuction? She was supposed to be going to see a doctor for intestinal trouble, but you don't go to a plastic surgeon for that."
Albrecht's sentence for the crime of manslaughter, and for trying to pass off $16,000 in forged checks from May's deceased wife's account, could have ranged from 12 to 50 years in prison, according to Assistant State Attorney David Dodd.
Dodd prosecuted the case with Assistant State Attorney Lev Evans, who heads up the economic crimes division for State Attorney Bruce Colton's office.
Following the sentencing in this case, Albrecht, who has been in the Indian River County Jail with no bond since May 2013, now will either await trial or cut a plea deal on additional charges of grand theft and giving false information to a government agency to qualify for public aid.
During the time she was taking money from May and living in his home, she and husband Ryan applied for and were given food stamps. Ryan Albrecht also sits in jail until November, serving time for those same charges.