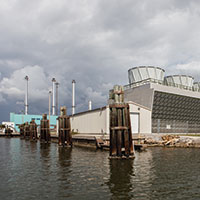 First version of OUC electric deal getting scrutiny
STORY BY LISA ZAHNER | NEWS ANALYSIS

The first draft of a proposed amended bulk power agreement provided to Vero by the Orlando Utilities Commission appears to be a very rough draft indeed, rife with big problems that will need to be addressed quickly if the City Council is to take action as planned on Sept. 15.
The Vero Council had set the 15th as a deadline, when even a draft of the contract had not been seen, in order to meet the goal of reducing electric rates by Oct. 1.  Vero officials have promised that this new OUC deal, once enacted, would reduce power costs over the next eight years and would enable Vero to shutter its Big Blue power plant.
But what remained unexplained by Vero officials and lawyers, only two weeks before the Council planned to sign the deal, was what Orlando was getting in return for making its generous concessions.
Upon reading the draft, Councilwoman Pilar Turner said she would like to see some objective analysis of whether or not the totality of the deal is good for Vero.
"Put financial value on every change, on every concession that was made to OUC and by OUC to Vero. When you negotiate a deal, both sides need to feel like they're getting something," she said. "Also, have clear spreadsheets comparing the original contract with the amended contract and have a document that is red-lined showing all the changes."
Several key elements of the proposed deal – shutting down the power plant, purchasing 54 megawatts of "peaking power" from OUC, and permanently turning over Vero electric's existing natural gas contracts to OUC – also appeared to potentially run afoul of Vero's existing contract to sell the entire system to Florida Power & Light.
While that contract doesn't appear to be going anywhere, it doesn't expire until Dec. 31, 2016, and provides for penalties of $5 million or more if the contract is breeched.
The contract with FPL requires Vero to maintain operation of the power plant. Pages 44 and 45 of the Purchase and Sale Agreement outline all the things the city is not permitted to do without a waiver from FPL and that appears to include amending any major contracts and selling or transferring any of the assets included in the deal.
In short, if Vero can't get the approvals or waivers it needs from FPL, this new OUC deal and the "savings" Vero is tying to the approval of this contract may be dead in the water.
If Vero can't broker transmission rights and regulatory approvals to bring 54 megawatts of peaking power across the state to make up for the capacity Big Blue would have provided, the city – under the proposed amended contract – might have to pay OUC for those 54 megawatts of power anyway.
The draft contract sets a June 30, 2016 deadline for Vero to begin accepting those 54 megawatts of peaking power, or paying the equivalent of the cost of those 54 megawatts. That deadline is six full months before Vero would be free from the restrictions of the Purchase and Sale Agreement with FPL.
There's a lot in the draft that appears contingent on FPL being agreeable. Some might say that puts FPL in a great negotiating position to convince Vero to take its $13 million offer to purchase Vero electric's customers in the Town of Indian River Shores.
Cynics, however, might say that should this already shaky deal with OUC go up in flames, the majority of the City Council would find a scapegoat in FPL and moan that FPL blocked Vero from getting its rates down.
The 71-page contract shoveled over to Vero by OUC is a big re-hash of Vero's troubling 2008 deal. In fact, it's the exact 2008 contract with about three pages worth of changes and additions interjected, sprinkled in throughout the document.
Changes were marked mostly in red, some in blue and at least this time around there are no redactions. Those who received the document in Microsoft Word can also click on the changes to view a note saying who made them and when.
The most inexplicable of the changes is the fact that the word "original" was inserted before the words "effective date" throughout the document, resulting in everything being back-dated to the "original effective date" of April 2008.
It's unclear if that's even possible, but it will be up to Vero's lawyers to explain why it's necessary and why it's beneficial to Vero to sign a contract with lots of new provisions, and then back-date the whole thing by more than seven years.
Candidate and former Councilman Brian Heady has a theory. He fought to challenge the validity of the 2008 OUC contract, the fact that it was not thoroughly vetted by the council, that it was hidden from the public and that 113 changes were made after it was voted on and signed by then-Mayor Tom White.
In light of the controversy still swirling around the 2008 contract, Heady suspects OUC is trying to pull a fast one. "I think they're trying to validate the original contract by back-dating everything to the original effective date," Heady said. "So that way, no one can ever challenge the original contract."
On Monday, City Attorney Wayne Coment referred any questions about contract specifics to City Manager Jim O'Connor. "I can only say what we have is the first draft amended agreement prepared by OUC folks. Schef  (Vero's outside utilities lawyer Robert Scheffel Wright) will be going through the first draft to make sure it comports with the discussions with OUC and to address any unresolved details," Coment said.
As of Friday afternoon, County Attorney Dylan Reingold had not had a chance to analyze the contract, and Reingold is out of the office this week.
Indian River County is interested in all of Vero electric's dealings, especially the "take or pay" provision in this new OUC deal that would bind Vero to a minimum of 85 megawatts of bulk power to meet its everyday demand, plus an additional 54 megawatts of peaking power.
The county has told Vero it does not intend to renew its electric franchise in 2017 and it's appealing to the Florida Supreme Court to be able to find another electric provider.
More draft versions of the contract are expected to emerge, even as soon as this week, as Vero's lawyers hope to have a document in nearly final form to present to a joint meeting of the city's Finance and Utilities commissions for a recommendation on Sept. 14 and then to the City Council for a vote on Sept. 15.