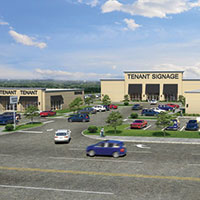 Languishing stretch of U.S. 1 poised for comeback
STORY BY STEVEN M. THOMAS

A long-languishing stretch of U.S. 1, stretching from the empty Albertsons at the corner of 17th Street to the Tropic Square shopping center a mile-and-a-half south at 6th Avenue, seems headed for a resurgence with five projects in the works involving as many as 20 new businesses.
The first business to open seems likely to be a Cumberland Farms store, followed by a Wawa, an auto parts dealer, possibly a Walmart Neighborhood Market, and a variety of shops and fast-food restaurants.
Vero Beach Director of Planning and Development Tim McGarry says the Aug. 18 passage of a land use amendment by the city council cleared the way for approval of a Cumberland Farms gas station and market on a 1.3-acre site at the southeast corner of the U.S. 1–17th Street intersection.
"They have submitted a preliminary site plan and it won't be long until that is approved," says McGarry, who expects the project to get a prompt go-ahead when a 31-day waiting period connected to the land use amendment is complete in September.
"We plan to begin construction of a 4,996-square-foot store with 16 fueling positions in January 2016, and the store is expected to open in late May, 2016," says Will Clark, an account specialist at the public relations firm that represents Cumberland Farms.
An earlier report in other local media described the new store as a Super Cumberland, but Clark says, "Although all of our new stores are super, 'Super Cumberland' isn't a term we use to describe them."
Roberts Equities, a mid-size real estate development and holding company with offices in Boca Raton, acquired the Cumberland site in two separate transactions, buying a defunct Chinese restaurant for $650,000 in July 2014 and purchasing a worn-out Mobile station in April for $1.19 million.
"The new user needs both parcels," say Roberts Equities Vice President Randy Tulepan.
Cumberland Farms began its retail existence as a Rhode Island dairy story in 1957 and morphed into a chain of New England convenience stores. A pioneer in self-serve gasoline pumps beginning in 1972, it now operates 600 stores in eight states, employing 6,000 people.
There are four Cumberland Farm stores in Indian River County, but, according to McGarry, the U.S. 1 store will be the first built in the city of Vero Beach.
"Cumberland Farms has a first-rate operation and this is an ideal use for the property," McGarry says.
In other development news near the intersection, the old Albertsons building across 17th Street from the Cumberland location, which has stood empty since 2012, may be the future location of a Walmart Neighborhood Market.
Billy Moss, a broker with Lambert Commercial Real Estate, says Walmart's property department has looked at several other sites in Indian River County and found them wanting, and that the retail giant is rumored to be zeroing in on the former Albertson location.
Walmart spokesman Bill Wertz declined to confirm the rumor, saying the company has "nothing to announce at this time," but Walmart has moved Neighborhood Market operations into a number of closed Albertsons in other parts of Florida.
Meanwhile, three quarters of mile south at 12th Street and U.S. 1, a Wawa store is slated to open in 2016, bringing an ambiance and dining option that has proved highly popular in other locations.
"Wawa has a cult following," says Moss, who brokered the deal that is bringing what he calls "a restaurant with gas pumps, not a gas station with food," to Vero. "The quality of their food is renowned. The quality of their coffee, the way they do business, the culture – all outstanding. It is like Starbucks used to be, a third place in people's lives. You have your home, you have work and then you have Wawa."
A privately held company more than 200 years old that began as an iron foundry in New Jersey in 1803 and later developed a huge dairy operation, Wawa operates more than 630 stores that are open 24 hours a day, 365 days a year.
The company, which is famous for its hoagies, says it serves nearly 200 million cups of coffee each year. It exploded into the Florida market in 2012. Since then it has opened 50 stores in the state and has aggressive plans to continue expansion.
Moss says Wawa has signed a purchase contract for the 3.5-acre parcel at 12th Street and U.S. 1 that formerly was the site of a GM car dealership and has been vacant for years.
"The deal has not closed because the contract has a site plan approval contingency," say Moss. That means the company could back out if the county rejected the proposed size or layout of its store, but that won't happen.
"They have submitted a site plan and we have asked for a couple of tweaks having to do with access and landscaping, but I don't anticipate any problems with approval," says John McCoy, the county's chief of current development. "I expect the plan to be approved in September, and I think Wawa will do well in that location."
"The county is very supportive of development along that stretch of U.S. 1," says Moss.
Also on the site will be a 5,000-square-foot retail building, likely housing multiple tenants, and what Moss calls "a couple of national fast-food franchises."
Just south of the Wawa property another multi-building new development is well along in the planning phase, with demolition of existing buildings slated to begin this month, according to Tulepan of Roberts Equities.
The company purchased the 3.65-acre bank-owned parcel on the east side of U.S. 1 in March for $1.25 million. The property at 1066 U.S. 1, which extends from 10th Place on the south to 11th Street on the north, formerly was the location of a Lincoln Mercury dealership.
Tulepan has landed a national auto parts dealer to occupy a 7,000-square-foot building that will front on U.S. 1. "That will be the first thing coming out of the ground," he says.
The company plans to build and lease out two additional buildings on the site – a 4,000-square-foot structure on U.S. 1 that could house a small restaurant, a cell-phone store and one other small tenant, and a 12,000-square-foot retail building with multiple tenants that sits behind the two front buildings.
"We have decided U.S. 1 is the place," says Tulepan. "We think there are quite a few opportunities along that stretch of road, which has lagged other parts of Vero in terms of development."
A few blocks further south, Elysian Partners, LLC, also of Boca Raton, is gearing up to remodel the small Tropic Square shopping center at 6th Avenue and U.S. 1 and bring in new tenants.
"Architects are working on the design as we speak," says Moss, who represents Elysian. "The owner is redoing the entire shopping center in anticipation of what is happening a little further north on U.S. 1. Development like we are seeing along that stretch is contagious. We are in negotiation with some formidable potential tenants, very well-known companies."
The part of U.S. 1 between 17th Street and 4th Street, a block south of Tropic Square, is relevant to the island because of proximity to the 17th Street Bridge and the fact that Indian River Boulevard, the route many islanders take when going south, loops to U.S. 1 at 4th Street.
"There are more fulltime residents on the island south of 17th than north of 17th," says Moss. "They want access to services and amenities and these new developments will help provide that."