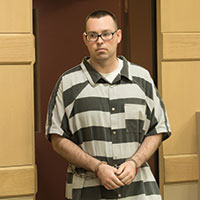 Jones gets 5 years; back to Vero for murder trial
STORY BY LISA ZAHNER

FORT LAUDERDALE – Former Vero Beach banker Michael David Jones, who faces first-degree murder charges for the killing of 26-year-old Sebastian River Medical Center nurse and Moorings resident Diana Duve, was sentenced last Friday to five years in prison for violating probation on a prior aggravated stalking conviction.
Jones, who appeared in court in gray-and-white striped prison garb and handcuffs, received 591 days' credit for time served since his 2014 arrest. After sentencing, Judge Lisa Porter ordered that he be transferred back to the Indian River County Jail as soon as possible, now that all of his Broward County matters are concluded.
Prior to moving to Vero to work for PNC Wealth Management, Jones had been charged with aggravated stalking for threatening to kill his Fort Lauderdale girlfriend. As part of a plea deal, he got five years' probation in lieu of jail time.
He had his probation transferred from Broward to Indian River County so he could continue to work for PNC as a financial planner. He was arrested for the probation violation of leaving the county without permission the day after Duve's murder, when detectives tracked him to a Fort Pierce hotel.
Last month, a Fort Lauderdale jury found Jones not guilty of the domestic battery of yet another girlfriend.
Assistant Public Defender Shane Manship and his colleagues, who assisted with Jones' defense in Broward, are now expected to begin preparing in earnest for the upcoming murder trial.
Assistant State Attorney Brian Workman, who is prosecuting the murder case, was on hand for the hearing Friday, as were Vero Beach Police Chief David Currey and Capt. Kevin Martin, the officers in command of the department during the search for Duve, which tragically turned into a grisly murder case for detectives to unravel.
This June will mark two years since Duve's death by manual strangulation.
After she went missing on June 20, 2014, Vero Beach Police put out a regional "be on the lookout" alert for Duve, with a note that she might be with Jones. Duve was last seen leaving What-a-Tavern in Royal Palm Pointe with Jones around 1 a.m. that Friday morning. Police eventually found Duve's body in Melbourne in the trunk of her own car, and through cell phone location data obtained via search warrant, located Jones in Fort Pierce.
Ft. Pierce Police Det. Sam Cooper testified Friday that he searched hotels in the vicinity of the cell phone location data, and found Jones in a room at the Hampton Inn. At that time, late on Sunday, June 22, Cooper detained Jones and called Det. Bradley Kmetz and Lt. Matt Harrelson of the Vero Beach Police Department to come and get him.
Kmetz and Harrelson both testified to arriving at the Hampton Inn and finding Jones and his gold Honda there, outside the county without the permission of Jones' probation officer, who also testified last week.
Jones' defense attorney frequently objected to evidence that was being presented, and she did in fact get some of the counts of violation of probation dismissed. The two counts that stuck were from the night of June 20, when Jones checked into the Hampton Inn using his own Florida Driver License and was clearly shown on surveillance video footage at the front desk, and June 22, when officers found him in the hotel room. Porter said the evidence from those two instances was "more than sufficient" to revoke Jones' probation and sentence him to prison time.
Harrelson testified to seeing Jones' hotel billing record on the computer screen at the Hampton Inn and to not only obtaining printouts, but also taking a photograph of the portion of the screen that showed the special instructions Jones gave at the desk, asking hotel staff not to tell anyone he was at the hotel and not to transfer any phone calls to his room. The defense attempted to present a theory that maybe Jones rented out the room and paid cash for four nights so that someone else could use the room.
Judge Porter, while dismissing two of the counts for lack of direct evidence that Jones was indeed outside Indian River County, seemed unconvinced by the theory that Jones rented the room for someone else. She said a hotel room qualifies as a "temporary residence" and that the hour that Jones checked in – after 10 p.m. – and the hour that he was found there by officers – also after 10 p.m. – would make it reasonable to presume that Jones was sleeping there, outside Indian River County, without the permission of his probation officer.
Jones was called as a witness for the State, raising his right hand in handcuffs to take the oath to tell the truth, but he six separate times invoked the Fifth Amendment when asked questions about his probation status, and about agreeing to obtain permission before leaving the county.