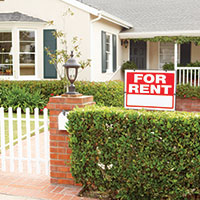 Judge lets Vero enforce ban on vacation rentals
STORY BY LISA ZAHNER

Central Beach homeowner and businessman Charles Fitz will now ask an appeals court to decide if the City of Vero Beach can legally ban vacation rentals of less than 30 days in residential neighborhoods; in the meantime, Vero will be enforcing its zoning code.
Judge Paul Kanarek Monday ruled that the case of Charles Fitz versus the City of Vero Beach would not go to trial and instead be disposed by a final judgment from the bench. Upon receiving a very favorable summary judgment last month, Vero's trial attorney John Frost asked Kanarek to simply affirm that code enforcement officials have the right to fine vacation rental owners who violate city code.
"If we came back to you, it would be the same thing you already heard," Frost, a Bartow-based attorney who represents Vero in various litigation, told Kanarek on Monday.
"I'm going to grant the city's motion and enter a final judgment," Kanarek said. "And you can take this issue up with the Fourth District."
Fitz and his attorneys claim that Vero changed its code in 2015 with the intent to ban vacation rentals in the city, and in doing so trampled on a 2011 Florida law prohibiting cities from toughening local rules against vacation rentals.
Kanarek didn't see it that way, so now the matter goes to the appeals court.
Fitz' lead attorney, Johnathan Rhodeback, said he expects the case to take about a year to come up before an appeals judge. Unless another Florida case is brought to an appeals court first, Rhodeback said the Vero case would likely be the first time an action of a local government as it relates to the 2011 law pre-empting the power to regulate vacation rentals to the state is weighed in an appellate venue.
Had a trial gone forward, city officials who amended the Vero code, upping the per-day fine for violations from $50 to $500 and changing definitions of terms in the code to "clarify" language needed to cite vacation rentals, could have been called upon to defend their actions.
Rhodeback said he and his client had no intention of hauling numerous city officials up on the witness stand in a trial, as that would have been a costly burden on taxpayers, but that he and co-counsel Matthew Groom had wanted to depose Vero Planning Director Tim McGarry.
A key potential witness for the plaintiff, McGarry had been ruled off-limits by the court because, as the interpreter of the city code in this case and others, McGarry enjoys the same type of immunity from being called to testify as a judge being asked to testify about a ruling he or she made.
The city last year brought its code enforcement officers under the police department to aid in after-hours and weekend enforcement of vacation rental cases, and City Manager Jim O'Connor, though not surprised about Monday's outcome, said it does underscore the city's determination to proceed with enforcing its code.
"The City's position all along is that we have the right to enforce our code and we obviously appreciate the judge confirming this position. We will continue our enforcement efforts."
Fitz, who owns multiple properties in Central Beach and was cited in April 2015 for renting out his home on Fiddlewood Road to vacationers for fewer than 30 days, declined to comment, preferring to speak through his legal team.
Rhodeback said videotapes of city meetings in which the staff was given marching orders to tighten the code, plus meetings where the changes were discussed and made, are included in the materials that will be forwarded to the appeals court. Watching those tapes – which would have been shown during a jury trial here – could be quite convincing with regard to officials' desire to rid Vero of vacation rentals, Rhodeback said. "I think the city's intent is quite clear."
Code enforcement efforts on Fitz's properties, as well as others, have been ongoing while the matter has been in court since 2015.