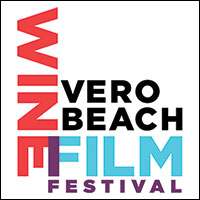 Vero Wine and Film Festival signs Sundance winner
STORY BY MICHELLE GENZ

For a rookie film festival, the upcoming Vero Beach Wine and Film Festival is scoring some big-league titles. Last week, organizers were making Vero travel arrangements for the creator and star of "Between Sea and Land," a full-length narrative feature that in January won two big prizes at the Sundance Film Festival.
The film, directed by Carlos del Castillo, won the Sundance World Cinema Audience Award, and its two lead actors won the World Cinema Special Jury Award for Acting. It was also nominated for the Sundance Grand Jury Prize.
Manolo Cruz, a well-known Colombian actor who in addition to having the male lead conceived of the film and wrote its screenplay, will be coming to Vero for the festival in June.
"I get to go to the beach!" he told Stewart when she called to confirm his attendance. In the film, Cruz plays a severely disabled man whose goal in life is to go to the beach, even though he lives in a shack on stilts over a marshy inlet off the Caribbean.  
Cruz, who lost 44 pounds in preparation for the role, plays a character who can barely move or speak; connected to a breathing machine, he is tended to by his mother, played by Vicky Hernandez, with whom Cruz shared the Sundance acting prize.
"There's already Oscar buzz," says Stewart, who met Cruz at the Sonoma Film Festival, Vero's partner festival. A star in Colombia known for roles in TV series, Cruz contributed half the production costs in order to see his movie made.
An actor since childhood, he said he has never been able to play the roles he wanted to play until now. "I felt trapped," he told a film industry newspaper, comparing his frustration to that of the character he plays.
Rights to the Spanish-language film were picked up for worldwide distribution by Global Screening just prior to its premiere at Sundance.
The film was scored by 22-year-old David Murillo, a student at Berklee College of Music in Boston, who was handed the finished film and given 20 days to come up with the music.
Also scheduled to visit Vero for the film festival are major league pitcher-turned-physician Ron Taylor and his filmmaker sons, Drew Taylor and Matt Taylor.
"Ron Taylor: Dr. Baseball" is a 20-minute documentary about the 77-year-old Taylor, a two-time World Series-champion pitcher (for the St. Louis Cardinals in 1964 and the New York Mets in 1969), who after seeing war zone field hospitals on a USO tour of Vietnam,  decided at age 35 to go to medical school.  Taylor eventually became the team physician of the Toronto Blue Jays.
For the film, Taylor's sons interviewed a number of prominent sports figures.
The Toronto-based Taylors will stay in the home of "a generous benefactor," says Stewart.
Their company, Film House Inc., also made "Our Man in Tehran," a 2013 full-length documentary that premiered at the Toronto International Film Festival, about a Canadian diplomat Ken Taylor and his role in the Iranian hostage crisis.
It won five Canadian Screen Awards in 2015 and multiple film festival awards before that.
Also in store for Vero is Véro – that's with an accent, short for Véronique – Vanblaere, an artist and native of Belgium who moved to Birmingham, Alabama 20 years ago. Over a bottle of wine, Vanblaere teamed up with a filmmaker friend, Jen West, and animator Joe Walker to make "Bottomless," a 2-minute animated short about adjusting from Northern Europe to the Deep South.
The novice filmmakers were lucky enough to land a spot next month at the Cannes Emerging Filmmaker Showcase at the festival's American Pavilion, and have crowd-sourced enough money to go themselves. Billed as a festival within the festival, the showcase, a juried competition, screens a dozen or so films to invited guests attending the Cannes Film Festival.
"She had already submitted to our festival when I saw her in Sonoma," says Stewart. "When I told Véro she was selected for our festival, she said, 'Oh my gosh, this is an amazing week. I've been accepted at the Vero Beach Wine and Film Festival – and Cannes.'
"I never expected to hear those two references in the same sentence," adds Stewart.
The Vero Beach Wine and Film Festival runs June 9-12. Starting this week, passes to the event can be purchased through the Riverside Theatre box office, as well on the festival website.