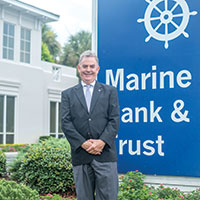 Marine Bank upgrades technology as assets increase
STORY BY ALAN SNEL
Photo: Bill Penny, President of Marine Bank

The Island's only local homegrown bank had another good period in the second quarter of the year and has been awarded a 5-Star Superior rating from Bauer Financial, the nation's premier bank rating firm.
Marine Bank's second quarter earnings were actually down 25 percent compared to the second quarter of 2015, dropping from $292,000 to $218,000, but bank President and CEO Bill Penney explained the lower number came because the bank invested in a new tech system that will offer improved services such as better security, mobile banking and instant-issue check cards.
Meanwhile, topline revenues and assets are up, year over year, with $207 million in total assets as of June 30, compared to $172 million as of the same date in 2015.
Penney attributes much of the bank's solid recovery since it was sanctioned by federal banking regulators several years ago to the strong real estate market on the island and mainland.
In the first two quarters of 2016, Marine Bank made 79 new home loans for a total of $24.4 million. Penney said the loans were for homes throughout Indian River County, from luxury properties in John's Island to small houses in west Vero and Fellsmere.
"It's all across the board," Penney said. "We're seeing loans for starter houses in the $100,000 to $200,000 range, for middle-income people in the $300,000 to $400,000 range, and on the central beach." He estimated about a third of the loans were for homes on the island.
The bank president said he is pleased with the real estate market's  steady growth because it means the upswing will be sustainable, unlike the go-go conditions of a decade ago when land speculators and home buyers were gobbling up properties and houses with little financial wherewithal  or income verification.
"We don't see the speculative excesses," Penney told 32963. "The growth becomes more sustainable. Prices are going up, but homes are owner occupied and they can afford [the mortgage payments]."
He feels Marine is outperforming national competitors in the market when it comes to small-business and home-mortgage lending.
"Our solid operating performance is being driven by new residential mortgages, small-business loan growth, an increase in deposit accounts and new customer relationships," Penney said, noting the bank made 23 new business loans totaling $7.7 million in the first half of 2016.
Marine Bank, chartered in 1997, has two full-service branches in Vero Beach and a loan production office in Sebastian. It is the only community bank headquartered in Vero Beach.