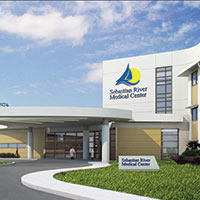 Sebastian hospital tops IRMC in first Medicare ranking
STORY BY TOM LLOYD

The Sebastian River Medical Center and the Melbourne Regional Medical Center just snagged the highest ratings of all area hospitals in Medicare's first-ever overall hospital quality report.
Released on July 27, the Department of Health and Human Services and the Centers for Medicare and Medicaid Services rated 3,617 hospitals nationwide on a one- to five-star scale.
Both the Sebastian and Melbourne hospitals were awarded three stars.
"Below average" scores of two stars were given to 707 hospitals nationwide including Indian River Medical Center in Vero Beach and Lawnwood Regional Medical Center in Fort Pierce.
The Mayo Clinic in Jacksonville and Sarasota Memorial are the only hospitals in Florida to receive the top score of five stars for overall quality in the new federal rating system, according to Kaiser Health News.
Eighteen Florida hospitals were awarded four stars while 76, including SRMC and Holmes, garnered three stars.
The Centers for Medicare and Medicaid Services – or CMS – says it based its ratings on 64 individual measurements published on its "Hospital Compare" website.
"We are extremely pleased [the] Sebastian River Medical Center received a top Medicare rating on the Treasure Coast," said Kelly Enriquez, chief executive officer of the Sebastian hospital. "We are about to break ground on our 94,000 square foot expansion project to expand the services we can offer."
IRMC's and Lawnwood's two stars leave something to be desired but do place them in the same category as some of the country's best known and most highly regarded medical facilities including the University of Virginia Medical Center, Beth Israel Medical Center in Manhattan, Barnes-Jewish Hospital in St. Louis and the Tufts Medical Center in Boston.
Lewis Clark, vice president of marketing and corporate communications at IRMC, points to the Vero hospital's designation by U.S. News and World Report as one of "Florida's best regional hospitals" for the past two years, and says "savvy consumers know that these reporting tools tell you something, but they don't tell you everything."
Not every hospital nationwide was ranked. According to Medicare, "Some hospitals, due to the number and type of patients they treat, may not report data on all measures and therefore are not eligible for an overall star rating. For example, hospitals that are new or small may not have enough patients for the measures used to calculate an overall rating."