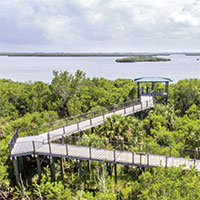 Why isn't Pelican Island a draw like 'Ding' Darling?
STORY BY ALAN SNEL

A lackluster support organization and low federal funding have consigned Pelican Island National Wildlife Refuge to a strange obscurity.
Founded by Theodore Roosevelt in 1903, the country's first national wildlife refuge has few visitors and is little known outside Indian River County. There is no volunteer coordinator to make connections with the local community, no visitor center and few signs indicating its existence.
Only one employee patrols the sprawling 8.5-square-mile property to enforce federal regulations and civil law, devoting only half of his working hours to the task, and parts of the refuge are strewn with trash left by people trespassing and partying.
Michelle Chappell, a deputy project leader who is one of the six federal employees that split their time between the Pelican Island property and three other national wildlife refuges in central Florida, said it's a tough challenge keeping an eye on more than 5,400 acres.
"It's really hard. You hope people do the right thing," she said.
Management shortcomings at the refuge come into focus most clearly when it is compared to J.N. Ding Darling Wildlife Refuge on Sanibel Island on Florida's Gulf Coast. Founded in 1945, Ding Darling is similar in size to Pelican Island – 6,400 acres – and both refuges were created to protect, and are known for sheltering, extraordinarily abundant bird life and other animals. Both are places of great natural beauty in gorgeous seaside settings.
But that is where the similarities end. Ding Darling is staffed by 11 fulltime employees, has a vibrant 11,000-square-foot visitor center with an auditorium, education room, birders observation room and gift store, and attracts 880,000 visitors a year – nearly 10 times as many as meander into the Pelican Island Refuge on the northern reaches of Vero's barrier island.
Much of the disconnect in profile and appreciation can be traced to differences between support organizations at the two refuges.
Here, the Pelican Island Preservation Society is run by an underpowered six-person board that is chaired by a bait shack owner, and has a mere 85 members. The group meets quarterly, holds one annual event that raises around $3,000 and apparently does little else to promote or improve the refuge. A former board member says the board is uninspired and resistant to new marketing ideas.
Meanwhile the nonprofit Ding Darling Wildlife Society has a robust board of directors, 8,000 members and four fulltime employees, including an executive director. It helped fund the visitor center and is now raising money to convert the facility to solar power.
"Darling gets more visitors and its friends group raises lots of money," Pelican Island Preservation Society board member Tim Glover said in an understatement.
The Pelican Island refuge is reached by turning off A1A about three miles south of the Sebastian Inlet or by Jungle Trail, an old shell road that runs through the affluent town of Orchid with the wealthy Windsor development nearby. The historic national property has hardly any facilities. There are two dirt parking lots with one information kiosk each, and a refuge office not open to the public tucked out of sight.
The refuge traces its lineage to Sebastian resident Paul Kroegel, who fought to keep plume hunters from killing waterfowl at Pelican Island to harvest feathers for women's hats. Kroegel's efforts bore fruit in 1903, when President Teddy Roosevelt designated Pelican Island as the country's first national wildlife refuge.
"A visitor center has always been of interest, but it's not in the foreseeable future because of funding," Glover said.
Federal manager Bill Miller works with Chappell and four other staff members to oversee and operate Pelican Island, Archie Carr Wildlife Refuge, Lake Wales Ridge refuge in Polk County and Everglades Headwaters. He said he would be willing to support a visitor center – on the island or in Sebastian on the mainland – but there is no funding.
"They could use a visitor center out there, but they never got the funding for it," said Richard Baker, president of the Pelican Island Audubon Society, a county-wide environmental organization that takes its name from the historic refuge but is not affiliated with it.
Miller said $696,995 was budgeted for fiscal 2016 for maintenance, law enforcement, administration and visitor services at the four wildlife refuges he oversees.
"We do the best we can with what we have," Miller said. "If things are broken, you'll find one of the six fixing it or the volunteers helping us."
"We depend on our volunteers who provide us with visitor services and maintenance program support, since we currently do not have a visitor services or a maintenance employee on staff," said deputy project leader Chappell.
Volunteers are not as abundant as they might be, however.
Preservation Society board president Steve Massey, who owns the Wabasso Bait and Tackle Shack on A1A near the State Road 510 intersection, acknowledged the board "needs to stretch out" to recruit more members for the Pelican Island friends group.
"The support is probably out there [in the community], said Miller. "It just hasn't been tapped."
Kristen Beck, a Sebastian kayak guide and former Preservation Society board member, saw a need for the refuge to improve its marketing and promotion efforts several years ago. The board agreed and sent her to a national wildlife conference in Washington, D.C. to learn ways to increase the refuge's profile.
But the board declined to implement any of the marketing techniques she learned at the conference, Beck said, and she stepped down soon afterwards.
Glover said Beck wanted to implement the marketing strategies too fast before the board could understand her marketing intentions.
"Kristen had training sessions and wanted to implement it overnight but we didn't understand what she wanted to do," he said. "It was not necessarily pushback. It was more a lack of understanding of what she wanted to do."
Even the Pelican Island Preservation Society's website could use some work. It's a stagnant-looking website with a picture of a pelican that looks like it hasn't been updated any time recently. That's because, Glover said, the previous Pelican Island society website got hit with a virus and had to be taken down.