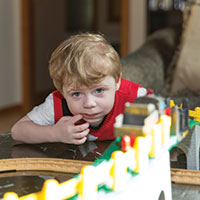 Miracle baby Kaiden Bracken's third Christmas
STORY BY MICHELLE GENZ
Photo: Heart transplant recipient Kaiden Bracken celebrating his third Christmas in Vero.

Two Christmases ago, the miracle of Kaiden Bracken's heart transplant was announced in a press conference at Joe DiMaggio Children's hospital in Hollywood, the first baby in South Florida to get a heart from a donor of a different blood type.
The next Christmas, in 2015, the family celebrated that Kaiden had survived a landmark first year. His mountain of presents included a noisy flashing car that careened around the south barrier island living room of his grandparents, George and Linda O'Malley.
On the eve of Kaiden's third Christmas, his obsession is a toy train, a hand-me-down from a friend who saw in an instant the thrill it gave little Kaiden. Joyful and full of energy, Kaiden navigates knees, couches and chairs following the train on its mesmerizing course around the coffee table.
This year there are too many miracles to count in Kaiden's life, the news that a biopsy of his swollen tonsils came back negative for Hodgkin's disease chief among them. The decision to remove the tonsils was difficult – doctors were reluctant to take away a natural defense against infection, since Kaiden's aggressive regimen of immune-suppressant drugs already restricts his life.
No trips to the grocery store. No contact with visitors without flu shots – or, if they haven't had one, without a face mask. Same for children in the park; just as she did all last year, Kristen Bracken keeps her son a little ways away, always encouraging interchange with the other kids but keeping them a teeter-totter apart.
Another blessing: having Kaiden's tonsils removed seems to have eased his swallowing, which may have kept him from some foods a toddler should be eating. And while there are some consequences of a stroke he suffered while he waited for a new heart – a clot formed in his mechanical heart and made its way to his brain – he seems to be adapting, developing new synapses in areas of his brain now clouded by the stroke.
Then there are milestones the average 3-year-old would reach unheralded – looking into someone's eyes, for example, or declaring it's snack time, as Kaiden did the other day.
"He took out a box of vanilla wafers and set it on the table," says George O'Malley, Kaiden's proud grandpapa.
For Kaiden, who has developmental delays in speech and other areas, the initiative in that series of actions – feeling hungry, going to the cupboard, getting out cookies, putting them where he normally eats, waiting for his mom's help – all hinted at progress.
In the past month, he has started to use his weakened left arm, a goal physical therapists work toward in multiple visits each week. Like the rest of his family, Kaiden loves music and can pick out the right note on the piano to match a song playing on the radio. But he always used only his right hand. Then a few weeks ago, he went up to his grandparents' grand piano, reaching up to strike the keys with his right hand, then threw his left arm up to join it at the keyboard. Since then, piano with two hands has been Kaiden's concert format of choice.
As a visitor watched last week, Kaiden circled past the piano to bang a nearby conga drum with his right hand. Suddenly he lifted his left arm for an extra thump.
"It's a miracle," says Kristen Bracken, a talented musician who for years played flute every Sunday at Holy Cross Catholic Church.
As Kaiden approaches his third birthday in January, it seems more and more miracles need to come his way. While the use of his left arm is improving, his left leg is struggling – another consequence of the stroke that is showing itself as he becomes more mobile.
And he is mobile. When he could finally bear to tear himself away from his train set, Kaiden turned his attention to the newly erected Christmas tree, laden with silver tinsel and shiny red ornaments. With a gleeful shriek – a note apparently marked "tenuto" on his score – he raced around the tree on tip-toe a half-dozen times.
His gait could not be more adorable, like a tiny angel about to go aloft. But walking on his toes, skillful as it is, is also a sign of problem. Because of the stroke, his calf muscles have tightened and he's had to wear braces at night to keep his feet flexed.
For a little boy who spent eight months confined on his back, enmeshed in IV lines and monitor wires, the braces are just another nuisance. So were the nights spent in the hospital strapped to a sleep monitor, when he appeared to have severe sleep apnea earlier this year. George O'Malley passes a photo on his smartphone to a visitor: Kristen, in a blue hospital gown, spooning little Kaiden who is fast asleep in the same hospital bed.
The sight is all too familiar to the O'Malleys. They accompany their daughter and grandson to myriad appointments, including those in south Florida, where a veritable medical school faculty of specialists tend to Kaiden.
"One of them goes with me to every Hollywood appointment just in case there is car trouble. And to help out. Kaiden is so high-maintenance it allows me to focus only on him and on the road when I'm driving." Whoever is in the backseat with Kaiden can keep him entertained and feed him snacks. Most importantly, they can make sure he doesn't throw up his medications – a critical component of his daily survival.
The little boy's care has consumed his mother's life. A former forensic sociologist with the public defender's office, Bracken cannot work – even from home – with a chaotic schedule of appointments and medical emergencies that only she is equipped to deal with.
The crisis began, one spring day in 2013, when Kaiden was 4 months old and a life-threatening heart condition showed itself in a terrifying domino effect. At Joe DiMaggio, Kristen was told her son was dying. Since then she has not left his side, except during his major surgeries when she could not go with him into the operating room.
Dominos continue to tumble. What for another child is a cold, for Kaiden is a crisis that lasts a month or more. The ice cream and Jell-O regimen of an everyday tonsillectomy for Kaiden was a hotly debated, intensively monitored intervention. And the intensity will likely accelerate as he grows older.
"I'll be home-schooling him," she says.
Kaiden is too vulnerable to colds to be in a classroom. He can't go on errands to stores like Publix; George and Linda O'Malley do all of Kristen and Kaiden's grocery shopping. Every Sunday, when Linda gets home from Mass at Holy Cross – she still sings in the choir – the whole family gets together for a family day: catching up, giving support, having a meal, walking together on the beach with Kaiden, who has a tiny wet suit for chilly days.
As the next inevitable domino begins to lean in, the force of three determined adults is there to meet it, bound by a love that brings the normally stoic Kristen to tears.
"My family is the miracle," she says, annoyed at her cracking voice. While Kristen's mom has scooped up Kaiden to distract him from a shattered ornament, her dad breaks his reserve on the couch to reassure Kristen it's OK to cry; emotions, after all, are what give them all their strength. This is the heart that never stops.
"They take care of me so that I can take care of Kaiden," says Kristen.