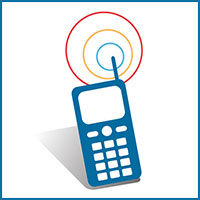 Shores cell tower may be operational by Easter
STORY BY LISA ZAHNER

With federal and tribal approvals and a favorable environmental assessment in hand, the company Indian River Shores contracted to build its much-anticipated cell tower is now finalizing the design for a 135-foot Monopine tower, which will go up much like a gigantic artificial Christmas tree.
The site plan still has to be approved by the Planning Zoning and Variance Board and the Shores Town Council. Construction will take two or three months and town officials hope to have the tower operational Easter.
After a deep-rooted foundation is poured to elevate sensitive equipment to one foot above the floodplain, the basic tower will go up. It won't look pretty at first, but Town Manager Robbie Stabe told residents to be patient – camouflage branches will go on before long and the tower will look at least a little bit like a tree.
"The main tower will go up first, then the antennas, and then the branches go on last. Please rest assured, it is not going to be a monopole with external arrays," Stabe reported to council members.
Stabe said the contractor, Datapath Tower, "feels very confident that they are going to reach an agreement with the initial carrier very soon," but when Vice Mayor Michael Ochsner asked, "Do we know the name of the provider, or can we know which provider they're dealing with?" Stabe said he could not disclose that information.
Direction the council had given Stabe and principals from Datapath Tower were that they wanted both AT&T and Verizon equipment on the tower. Stabe told them the key lies in getting the first major provider to sign on; after that, competitors would soon follow suit.
The tower will fill in the gap in coverage on the barrier island between the nearest towers on the Village Spires condominiums to the south and at Sea Oaks to the north.