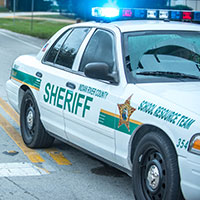 Detectives still probing death of school leader
STORY BY RAY MCNULTY

Indian River County Sheriff's detectives are still investigating the circumstances surrounding the Christmas Eve death of a local school administrator who was struck by a pickup truck driven by her boyfriend.
The late-night incident might have been alcohol related, according to the case report filed by the deputy who responded to the scene.
"It's still under investigation," Sheriff's spokesman Sgt. Eric Flowers said, adding that both a traffic homicide investigator and regular detective are working the case.
Glendale Elementary assistant principal Janai Cooper died early Dec. 24 from injuries she suffered when her boyfriend, Brian Coffey, drove his 2011 Chevy Silverado into her on the driveway in front of the couple's Roseland Road home.
In his report, Sheriff's Cpl. Rick Daniel said he arrived at the home minutes before midnight to find Cooper's body on the ground behind the truck and her boyfriend "over top" of her.
Cooper was unresponsive, not breathing and did not have a pulse, prompting Daniel to begin CPR, which he said he continued until paramedics arrived. She was taken to Sebastian River Medical Center, where she was pronounced dead at 12:33 a.m.
Daniel said in the report, "Coffey blurted out that he didn't see her and that he ran her over with his truck." Flowers confirmed that Coffey later told investigators that he was leaving the house to buy cigarettes when he drove over his girlfriend.
Daniel also reported that Coffey was "slurring his words," had a "strong odor of alcoholic beverage coming from his breath" and was holding a large "Crown Royal bottle that was half empty."
The deputy said that while he was administering CPR, "I told Coffey several times to put the alcohol down and to sit down, but he refused and stumbled around the area."
If detectives can prove Coffey, 44, was legally intoxicated at the time of the incident, he could be charged with DUI manslaughter, even though Cooper was struck on the driveway.
"You don't have to be on a public roadway to be charged with driving drunk," Flowers said. "If you're operating a motor vehicle and you're over the legal limit – it doesn't matter if it's a driveway or private road – you can be charged with DUI."
Flowers said detectives also are investigating whether something other than alcohol might've provoked the incident.
"We're looking into all aspects of the case," he said. "We want to know what happened that night – where they went, what were they doing, what led up to her being struck by the vehicle."
In a statement released shortly after the incident, Sheriff Deryl Loar said Coffey "has been cooperative with investigators." He said that once the investigation is concluded, detectives will present their findings to the State Attorney's Office, which will determine if any charges will be brought.
Cooper, a Vero Beach High School and Florida Atlantic University graduate who earned a master's degree from Nova Southeastern University, began teaching in 2001.
She taught kindergarten and at the elementary-school level before becoming a reading coach at Dodgertown Elementary. She had been an assistant principal at Glendale Elementary since 2010.
Indian River County Schools Superintendent Mark Rendell called Cooper's death an "incredible loss" for the community.
"Her positive impact on the lives of those around her was unmatched," Rendell said in a statement released by the district. "Her energy and enthusiasm for learning was contagious. We were better because of her."