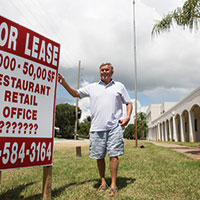 New owner floats diverse ideas for old Press Journal building
STORY BY ALAN SNEL

One of the most recognizable landmarks on U.S. 1 in Vero Beach may soon be undergoing a rebirth.
Developer Bill Summers says he's nearly ready to submit a mixed-use plan to the city to remake the old Press Journal newspaper building, but he's waiting for a tenant – either commercial or residential will do – to sign a check and commit to the project.
The local daily abandoned its one-time flagship building last year amid falling circulation, shrinking staff and a continuing consolidation into the Stuart News headquarters, and moved the remnants of its small Vero team into a second-floor office downtown. It had long since shifted its printing presses to St. Lucie.
Summers, who bought the paper's 50,000-square-foot building in November for $1.4 million, said his tenant prospects have been a diverse bunch, including a tennis academy, a medical clinic, retail stores, a Florida restaurant chain, and a furniture/cabinet distributor.
The developer has even considered creating enclosed parking in the interior of the concrete block structure, providing easy access to restaurants and stores occupying surrounding parts of the building, and looked at using a 6,200-square-foot section with a 32-foot-tall ceiling as an event center for weddings and dancing.
A "For Lease" sign in front of the building states that restaurant, retail and office space is available.
"There's a lot of interest. But I need to transform the interest into real deals," Summers said after taking  a 32963 reporter on a tour of the property at 1801 U.S. 1.
In addition to seeking tenants, Summers said he's leaning toward developing 20,000 square feet of the building – or 40 percent of the space – as 30 to 35 extended-stay residential units. He said the old newspaper lobby would serve as the lobby for his lodging units.
But he's hesitant about diving into the residential redevelopment on his own without a major commercial tenant committing to the building.
Summers, who works in an office on Wilbur Avenue downtown, said he had conversations with a developer who wanted to build an indoor tennis facility with five indoor courts, plus a health club. He also talked with a cabinet distribution company and a restaurant chain that looked at the building's northeast corner for exposure to U.S. 1. 
"Whoever commits, that gives me encouragement to build the residential," Summers told 32963 last week. "I've had lots of people approach me – not a week goes by that I don't field a couple of calls – but you have to have the commitment, not just a conversation."
Summers said he would prefer to build the residential component himself "because I can control it." He noted the success of the nearby Hampton Inn & Suites at 611 20th Place gave him confidence that another long-term lodging concept could work in Vero Beach.
Summers has also floated the idea of partnering with Riverside Theatre on a residential layout in the building to house performers and production staffers who travel to the popular theater in Riverside Park during the theatrical season.
But Patti Rooney, Riverside Theatre controller, said the theater is passing on the idea. It has year-round leases at 26 properties such as local apartments to house actors and production workers and is happy with that arrangement.
Whatever shape redevelopment eventually takes, Summers plans to get off the grid and use gas-powered generators to produce electricity to run the building. He wants no part of Vero Beach's high-priced electric utility and said he can tap into natural gas lines running along the U.S. 1 to fuel large generators.
Summers said the closed building currently is costing him $1,500 a month in utility expenses.
City Manager Jim O'Connor said he was not aware of Summers' intentions to spurn the city electric utility, and does not know of any business in the city that is off the grid.
Summers acknowledged that the neighborhood behind the building has a tough reputation, but doesn't believe that is a bar to successful development. He said Vero Beach Police have been monitoring the site and have charged two people with trespassing.
Mike Yurocko, vice president-broker at the Vero office of SLC Commercial Realty & Development, has checked out the site and building.
"It's a good location with a lot of parking," Yurocko said. "Sooner or later something will happen there."