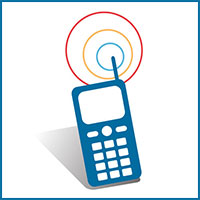 Cell tower project inching forward in Shores
STORY BY LISA ZAHNER

Better cell phone service for Indian River Shores is likely at least a year away, but now that a location has been chosen for the stealth tower disguised as a huge pine tree, Town Manager Robbie Stabe said steady progress is being made by the firm hired to permit and build the tower.
Stabe reported to the Town Council that site walks of the location on Town property near the Public Safety Department Complex have been completed, and that the "final survey should be completed next week."
He said Datapath Tower is negotiating with the major cellphone carriers, as the carriers' commitment to place transmitter equipment on the tower is needed to make the project viable.
Stabe said the carriers have shown "strong interest" in contracting for space on the tower, which would be the lone tower between the one at Sea Oaks on A1A in the unincorporated county, and the one atop the Village Spires condominium on Ocean Drive in Vero Beach.
The 115-foot "monopine" tower, depending upon the manufacturer and model selected, carries a price tag of nearly a half-million dollars for design, permitting and construction. The stealth tower will be covered in foliage crafted of a Fiberglas-like material in an effort to disguise its function.
Datapath had originally agreed to pay half the $600,000 cost of an unadorned tower, and Town officials are still working out the final cost details, including how much Shores taxpayers will have to pony up.
After the tower is operational, the Town will receive a portion of the fees paid by cell service providers to occupy space on the tower.
Depending on the type of antennae required for cell and data transmission, the monopine tower should be able to support five or six different carriers.
More than a decade in the works, the effort to erect a cell tower in the Shores has been contentious, with blocs of residents feuding over whose backyard the tower would be built in. Previous town councils repeatedly shelved the project to avoid potential litigation.
The current council and staff have worked closely with residents, including representatives of 90 Bermuda Bay homeowners who signed a petition against the cell tower being on town property, trying to mollify objections.
The one thing most Shores residents finally agree on is that the town absolutely needs better cell service for public safety and daily personal and business communications. Realtors say the lack of reliable service makes properties in the Shores less attractive, countering cries from residents adjacent to the cell tower site who complain their property values will decrease once the tower is up and in view.
Datapath and Town staff hope to come back with a "final implementation plan" with a timetable by the end of June.