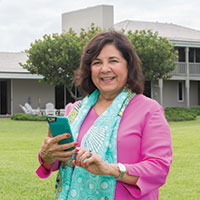 Island luxury home market nothing short of astonishing
STORY BY STEVEN M. THOMAS

The 32963 real estate market continues to be nothing short of astonishing. The population in the island ZIP code area is tiny, somewhere between 15,000 and 16,000 in season, and yet top agents here rack up the kind of massive annual sales totals celebrity agents in New York City and Los Angeles brag about.
During the last week in May, 10 homes on the island sold for more than $1 million, with closing prices ranging from $1 million to $8.6 million. Even more amazing, the top sale was the third on the island in the first six months of this year that topped $8.5 million.
All the top island brokerages were involved in the million-dollar-home sales spree, but the three biggest sales all were listed by one agent: Matilde Sorensen, of Dale Sorensen Real Estate, Inc. She also brought one of the buyers, for a total of four transaction sides out of six in the three top sales, which had a combined value of nearly $26 million.
Sorensen says the $8.5-million-plus sales all were to buyers with a presence in Vero, people moving up within the market.
The first big sale was of a 7-bedroom, 11.5-bath, 9,000-square-foot home on a 1.28-acre oceanfront lot in Orchid Island Golf and Beach Club on the north island.  It went under contract in January – less than 30 days after Sorensen listed it – and closed on Feb. 1 for $8.5 million.
According to county property records, the seller was Philadelphia billionaire Brook Lenfest, who has dabbled in real estate development on the island in recent years. Sorensen says the buyers were "a nice family from Vero Beach. He is a young attorney. They had a small home on the ocean and decided to upgrade to a larger home."
The second sale over $8 million was in Old Riomar. Built in 1946, the 7-bedroom, 5-bath home sits on a 1.71-acre lot with 204 lineal feet of Atlantic Ocean frontage.
Sorensen listed and sold the house more or less simultaneously.
"The owners were clients and friends. They called me and said they would consider selling. The moment they called me, I called another client who I had been working with for the about a year and a half, who had been looking up and down the oceanfront in Vero, waiting for the right property.
"The buyers are a young family with six children. They had a small condo here and loved the lifestyle. As soon as I called . . . [the husband] flew down and bought the property. It was pretty much a one-day deal. I never got to show it to anybody else."
"For us . . . [Matilde] was a perfect fit," R.E. Dillon, seller of the Old Riomar home, wrote in an email. "I wanted a realtor to handle my sale on a very low key style, no horde of potentials running through the house. She knew what I wanted and executed to that objective."
The third mega-sale was another home on the ocean in Orchid Island Golf and Beach Club. The 4-bedroom, 7-bath, 9,000-square-foot house sits on a 1.79-acre lot with 160 lineal feet of beach frontage. It went under contract in late April and closed June 1 for $8.6 million. The buyers were local, according to Sorensen.
Sorensen says staying in touch with an active network of buyers and sellers, including many past clients, is a big part of her success, along with "knowing the right fit for the buyer."
She says finding the right home for a buyer often takes time, especially in a market where inventory is tight. Though she sold the home in Old Riomar immediately, it was to a family she had been working with for more than a year.
"Inventory on the island is getting to be a challenge," Sorensen says. "It is difficult for both the buyer and the broker. When properties are correctly priced, they are selling quickly," which reduces what is available to show.
The plus side of low inventory is that it's pushing prices higher. Sorensen mentioned a client who bought a home on the water in The Moorings recently for $1,250,000 and resold it two months later for $1,375,000. "They made pretty good money," she says.
Real estate website Trulia.com says the median home sales price in the 32963 area is up more than 20 percent since last year. (That doesn't mean most properties have appreciated that much, merely that the middle point of the sales spectrum has moved higher, due in part to a number of high-dollar closings in the past year, as well as to overall price increases on the island.)
Sorensen noted a couple of other positive trends: She says the market for riverfront houses is strong and that the old pattern of a busy winter season and slow summer no longer applies; while traffic still tapers off a bit during the summer, plenty of buyers are still looking and agents are closing substantial numbers of sales.
So far this year, Sorensen has listed and/or sold $73.3 million worth of property. If her second half is as good as the first, that will give her a 2016 total that would make Josh Flagg or Ryan Serhant smile.
And the second half looks promising: In May Sorensen listed the three remaining homes in North Shore Club, all of which are new construction on the ocean listed in the $6 million-to-$7 million range. In total, she has more than 40 current listings over $1 million.
Dale Sorensen Real Estate, Inc., which Matilde co-owns with her husband Dale Sorensen, is the largest brokerage in Vero Beach by a substantial margin with more than 100 agents and a 30-percent market share on the island.