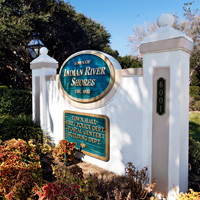 Shores settles discrimination, harassment case
STORY BY LISA ZAHNER

After nearly two years of litigation, the Town of Indian River Shores has settled a federal discrimination and sexual harassment lawsuit with a former female public safety officer, just four days before the Town's current and former employees were set to account for accusations spanning 15 years.
Samantha Haynes filed a complaint with the Federal Equal Employment Opportunity Commission after being fired in April 2013 from her job as a triple-trained firefighter, paramedic and law enforcement officer with the Shores. That complaint process, in which the Town denied allegations and staunchly defended its policies and its officers' conduct, led to Haynes' lawsuit against the Town in 2014.
Town Manager Robbie Stabe confirmed Friday evening that the suit had been settled, as attorneys had been working to come up with a resolution throughout last week prior to a scheduled trial this past Tuesday. "The Town entered into the settlement at the advice of and in cooperation with its insurance carrier, in the interest of its residents and to avoid further disruption to its operation, and expressly denies any liability," Stabe said over the weekend.
Stabe said he had "no details yet" and would not comment on the monetary terms of the agreement, but a Joint Notice of Settlement filed with the Florida Southern District Court on Friday states, "The parties will promptly file a Notice of Dismissal pursuant to Federal Rule of Civil Procedure 41, indicating this action is dismissed with prejudice and each party will bear their own costs and requesting that the Court retain jurisdiction for thirty (30) days."
Haynes, who according to court records had been working as a paramedic at Indian River Medical Center after severing ties with the Shores, alleged that she was treated differently and unfairly because she was a woman. She cited harassment of an overtly sexual nature, coupled with a double standard with regard to conduct and career prospects. She also claimed that she was discriminated against due to what she says was a diagnosed medical condition involving very heavy monthly bleeding.
The Town, in its responses to Haynes' suit, consistently denied Haynes' allegations and, according to Town officials, the Shores' legal team was prepared to vigorously defend the Town and its officers.
Should the case have gone to trial, it would have brought back numerous high-ranking officers who have retired from the Shores' force. In the 2012-2013 timeframe, the Shores offered bonus incentives to senior officers eligible for retirement and several employees took the Town up on the offer. The accusations go so far back that one of the incidents cited supposedly involved a decorated officer who is now deceased.
Because Haynes called into question the way decisions were made about disciplinary measures and promotion, defending the allegations could have also involved testimony from Stabe, who was a supervisor and Chief at different times during Haynes' employment before taking the job of Town Manager.
Shores Public Safety Director Chief Rich Rosell, who was hired in February 2015 and relocated from New Jersey to take the helm of the department in late March of last year, came onboard nearly two years after Haynes termination and thus was not involved in any matters pertaining to the lawsuit, except dealing with the cloud hanging over the department as the trial date approached.
Even if none of Haynes' allegations were proven to be true, or to rise to the level of discrimination or harassment after a trial, the airing of the embarrassing and sometimes very personal details Haynes had included in her complaint might have been detrimental to the Town and to public confidence in its public safety officers.