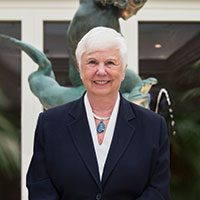 Executive Director of Vero Beach Museum of Art to retire
STORY BY MICHELLE GENZ

When in the late summer of 2004, twin hurricanes greeted the Vero Beach Museum of Art's newly-arrived executive director, Lucinda Gedeon, it would have been hard to imagine anything positive coming out of the devastation to her new hometown.
As it turns out, the drenching rains germinated the seed of one of Gedeon's major accomplishments in a 12-year tenure that will end this fall.
Water was lapping at the steps of the museum, just 8 feet above sea level. With the power out and the island evacuated, a lone security guard, the late John Janssen, remained in the museum. With millions of dollars' worth of art reliant on an air conditioner running off a generator, Janssen camped out for what amounted to a couple of weeks making sure it didn't run out of gas.
By the time the power came on after the second storm, Gedeon had her work cut out for her. Charged with "bringing the museum to the next level," the mantra of then-board chairman Rick McDermott, a plan began to take shape to tame Florida's art-unfriendly climate.
Along with creating a glass-enclosed vestibule and building an atrium around the existing sculpture garden, she and her board commissioned a new 20,000-square-foot wing. That vast space would house and conserve what would become a greatly expanded permanent collection. Today it stores more than 850 works in a state-of-the-art, climate-controlled environment. And they're on a flood-safe second floor.
The wing also includes a climate controlled loading dock, safe passage for works loaned to the museum. That fact alone has raised the caliber of the exhibits.
Today, as the museum celebrates its 30th anniversary, the hard-working Gedeon is easing into the prospect of retirement in November, a decision made public last weekend. And while Vero's art lovers were mostly stunned by the news, they are praising the legacy she is leaving.
"We are slowly coming to terms with it," said Sophie Bentham-Woods, head of marketing for the museum.
A search committee is in its early stages, says board chairman Scott Alexander.
It was a recruiter hired to perform a similar national search that reached out to Gedeon in Purchase, N.Y., in 2004, where she was the "very happy" director of the Neuberger Museum of Art.
"I had never heard of Vero Beach," Gedeon told Vero Beach 32963 in 2010. "I laughed when she said Florida – I'd never been below the Mason-Dixon Line."
It was the facility and the search committee, headed by McDermott, that sold her on the job, she said. And a particularly warm recommendation sold McDermott on Gedeon.
"I was doing my due diligence, and I had a close friend in Harrison, which is nearby, so I called him," recalls McDermott. "He said, 'Not only do I know her, I'm looking at her house right across the street. Yes I know her. We think she's terrific and she's doing a great job.' "
Those neighbors were Fred and Carole Taylor, who also have a home in Vero; McDermott says they remain "great friends" with Gedeon and her husband, artist Francis Sprout.
Former board chair Ellie McCabe was similarly impressed. "I knew that she was a strong leader. You could tell it in a minute," says McCabe, who has been involved with the museum since its inception in the mid-1980s. "I said to myself, 'Great things are going to happen now.' And they did.
"Not to take anything away from the people that were there in the beginning; it was moving along very nicely," McCabe says. "But when Cindy got here, it was just the thing they needed to bring it right over the top."
When the museum was first built, Ellie McCabe's parents' foundation funded the Wahlstrom Sculpture Garden. Under Gedeon, the sculpture park was enclosed by a soaring atrium with café tables and a fountain.
And before that, in 2007, Gedeon oversaw the establishment of the Alice and Jim Beckwith Sculpture Park on the museum grounds.
"It's not every museum that can develop from the ground up such a sculpture collection and sculpture garden," says Sharon Theobald, a senior appraiser and art advisor with the American Society of Appraisers and a past chair of the small museums committee of the American Alliance of Museums in Washington.
Theobald calls the expanded sculpture collection and display "one of the major contributions in (Gedeon's)  legacy, which has been long and I think distinguished." She cites the George Rickey kinetic sculpture with rotating blades, the acquisition of which was celebrated with a Rickey retrospective that marked the opening of the sculpture garden.
Gedeon grew up in Armonk, New York. At 17, she left for New York City, staying in a rooming house, working as a secretary and taking classes at NYU. She soon followed her older sister, a civil rights activist, to Venice, California.
There Gedeon worked at Kobrand, the wine distributor, and befriending the boss' daughter, became interested in art history. Together they toured Europe in a VW bus, visiting every museum they could.
"I fell in love with Michelangelo's David," she said. "I now had a focus."
Back in Los Angeles, she worked in a gallery and learned art appraisal, and eventually earned a degree in art history from Long Beach State University. Her graduate studies focused on the history of prints and drawings; her Ph.D. is in 20th century American art history.
It was in 1985 while studying for her doctoral exam that she signed up for a seminar in African Art and met Francis Sprout, working on his second master's degree. A fine artist who shows frequently at Ocean Drive's Admiralty Gallery, Sprout is a retired professor who taught at the University of Denver and Pratt Institute. He works from a studio in the garage of their island home.
Together they have kept an intensive social schedule as Gedeon fulfills her role at museum openings, lectures, fundraisers and festivals.
Gedeon has championed greater outreach at the museum, including new programs like the Art for Health's Sake initiative, and the Moonshot Masterpieces collaboration with the reading initiative, Moonshot Moment, now in the public school system.
The museum provides instructors to public schools, youth centers, senior centers and hospice.
Inside the museum, there are now special tours for preschoolers, a mentorship program pairing seniors with at-risk adolescents, and a movement class for people with Parkinson disease.
Those programs have "really made the museum a community resource," says current board chairman Alexander,
While many note Gedeon's confidence and strength of leadership, they also point to her kindness.
"She is very kind and generous to her staff," says Theobald, the appraiser. She recalls a video her staff made for an annual meeting, to the tune of Sly and the Family Stone's "We Are Family."
"That's first and foremost when you look at a museum director," Theobald says. "It's not something every museum director can achieve. It's what happens when you build support and continuity.
"That's the support that the Athena Society and the Chairman's Club must also share; they feel they're part of the museum family."
That family extends to the less visible members of society.
Last year on Valentine's Day, Gedeon found herself singing Fred Astaire's "The Way You Look Tonight," when the art class for Alzheimer patients and their caregivers, taking their cue from somebody humming, staged an impromptu singalong.
"It was so nice. It was really darling," says Shotsi LaJoie, a psychotherapist and artist who has run the class for five years.
"This is a fragile population and the museum bends over backwards to make them comfortable. They just pour so much attention on these people when they're in the museum."
As for what comes next for Gedeon, Theobald believes she has an obvious answer. "I hope they're thinking director emeritus, wouldn't you think?"
Gedeon has shared museum spaces with other arts organizations, including Ballet Vero Beach, the Atlantic Classical Orchestra's chamber series and Vero Beach Opera's opera studies program.
And its longtime roommate, the Vero Beach Art Club, is finally content in new digs near the museum's education wing after resisting the suggestion of Gedeon and the board to move out of the administration complex.
"Turns out they were right," says the club's former president, Sue Dinenno. "It's a much better location for us. We have arrived at a peaceful place with the museum, which was always our desire.
"I spoke with Cindy on Friday and told her how sorry I was that she was retiring," she added. "She's done a wonderful job of growing the museum and increasing its prestige around the state, which in turn has benefitted the Art Club."
Vero Beach City Manager Jim O'Connor has worked frequently with Gedeon, particularly during the expansion.
"She is one of those folks that live and breathe their business, and her husband being an artist contributes to that," he says.
He and his wife, Sherry, have been close friends with Gedeon and Sprout since the O'Connors came to town five years ago and Gedeon "took us under her wing." They are a regular foursome at Polo Grill, her favorite restaurant, O'Connor says.
The O'Connors go frequently to the Thursday night outdoor jazz concerts at the museum – another innovation under Gedeon. And they go to educational events.
"Cindy got us involved in going to the lectures when they have new exhibits," he says. "It's one of those things we would have passed over and not done, but we really enjoy it. It's a totally different feeling from going in and just reading the brochure."
As for Gedeon and Sprout, they will remain in Vero. "It's an amazing little town and we've grown to love it."