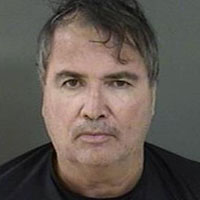 Police account of chilling murder on South Beach
STORY BY LISA ZAHNER
Photo: 58-year-old Asbury Lee Perkins, who is accused of killing his wife at their South Beach home in November

Newly-released police records provide a riveting, real-time account of events leading to the arrest and eventual indictment for first-degree murder of 58-year-old Asbury Lee Perkins, who is accused of killing his wife at their South Beach home in November.
The "Detail Call for Service Report" – 18 pages of back and forth communication between deputies and the Sheriff's Office dispatch – was among the discovery documents demanded by Perkins' public defender. When combined with the arrest warrant narrative, the computer-generated log presents a moment-by-moment description of what started as a routine welfare check and ended with the discovery of Realtor Cynthia Betts' dead body.
The call report shows that Betts' father, William Betts, called police after 1 p.m. on Tuesday, Nov. 3, to ask them to check on his 63-year-old daughter because he'd been unable to reach her.
The report indicates the father told the call-taker that Perkins was an alcoholic with a history of domestic violence. The father told police he had spoken with his daughter on Saturday, which was Halloween night, but that when he called back on Sunday and Monday, he got no answer on either her cellphone or her landline phone.
The first deputy arrived at the home on Seagrape Drive in the Oceanside subdivision about 1:53 p.m. At 2:02 p.m. he reported back there was nothing immediately suspicious at the home: "No answer to door. No vehicles visible. Dealt with these subjects before. Subjects are known to have a little dog also. No dog barking at my knock/bell. All appears 10-4 here. Note left for Ms. Betts to contact Mr. (William) Betts. Also attempted to look into the rear of the property and nothing appears out of the ordinary. NRN (No report necessary)," records state.
Evidence discovered later, statements by Perkins, and medical examiner reports indicate Betts was likely already deceased by the time the deputy arrived – fatally shot by Perkins at close range.
Still unable to reach his daughter as the day progressed, William Betts called the Sheriff's Office back at 6:30 p.m., with dispatch sending the following message to the evening deputies, "Father requests us to search the house good, he is very concerned for her safety."
Two units responded, the first arriving eight minutes after being dispatched.
Court records state deputies "observed that all the lights in the residence were on" but that when a deputy "knocked on the front door the lights went off." 
The arrest warrant affidavit states the officer observed that the front door was locked and that there were several packages on the front porch, along with the note left by the other deputy that afternoon asking Betts to please call her father.
A dog was barking in the house and deputies went around to the back to check the residence out more closely.
"When they entered the back yard, they saw a white male standing in the living room near a computer. The computer screen was illuminating the male," records state.
The deputy shined his flashlight at the man, later identified as Perkins, and he came outside into the backyard and spoke with the deputies, who told him they were there to check on Cynthia Betts.
"Perkins stated that Cynthia was with her family in New Jersey and told the deputies to get off the property. Perkins refused to allow the deputies inside to check the residence," the report states. "Perkins went back inside the residence."
At 7:17 p.m. the Sheriff's Office was back on the phone with William Betts, who assured them his daughter was not in New Jersey and also told them that "she would not leave her dog as she takes the dog everywhere with her because she did not trust Perkins to care for the dog." William Betts also told deputies Perkins had a revolver.
A supervisor was called in to assist, with heightened awareness that the man was likely armed.
The deputies had sent in the tag number of a vehicle spotted in the garage and a driver license number and identified the man in the house as Perkins by 7:28 p.m.
A sergeant responded to the scene and made contact with Perkins at the back of the house, while two deputies stood ready to enter the front of the residence.
When Perkins again denied entry for a welfare check, the sergeant issued the order and the deputies entered the house, detained Perkins and "conducted a sweep of the residence."
At 7:47 p.m., crime scene technicians were requested and deputies notified the Criminal Investigations Division they would be bringing in a subject for questioning.
At 7:49 deputies reported a "Signal 7," which means a dead person has been found.
Records show Betts' body was found "wrapped in a carpet inside of the laundry room" with garbage bags tied over her hands. Court records say Perkins initially claimed "Betts shot herself twice, once in the stomach and once in the ribs while he was sleeping outside."
But reports say Perkins also repeatedly said "he was going to prison for what happened."
The report says Perkins was read and re-read his Miranda rights, and that he said he no longer wanted to speak with the officers, but then he continued to talk to them. "Perkins made the following admissions: He shot his wife because she took money out of their banking account without his knowledge and she continually nagged him. Perkins advised that these acts drove him to remove a gun from a locked safe which he needed to use a combination to access."
"Perkins advised that Cynthia Betts did not know he was getting the gun and did not know that he was approaching her with the gun before he shot her. Perkins advised that after he shot her, he put plastic bags on her hands to stop the blood from running all over the floor and used rugs to drag her into the laundry room. Perkins advised that he was going to put Cynthia Betts' body in the trunk of her car and then drive it into a lake but there were complications with his plan."
At 7:57 p.m. deputies called animal control to pick up "a small dog."
Emergency medical services were called and an ambulance from Station 3 was dispatched.
Relief deputies came to the scene and at 10:32 p.m. a message was sent saying that they had a "Prisoner at CID (Criminal Investigations Division) door."
While all this was going on, dispatchers researched the individuals involved and found previous incidents at that address and involving their subject, Perkins.
The couple, who married in 1991 according to public records, moved to Vero from Boca Raton and purchased the home as joint tenants in October 2010. Perkins, whose troubles with the law go back to 2004, was subsequently arrested on two DUIs, plus disorderly intoxication and domestic battery.
Sheriff's Office units and crime scene activity reports go on throughout that Tuesday night, which happened to be election night, up until 6:54 a.m. Wednesday morning when the final line states "All units cleared" from the scene of the murder.
Perkins was initially charged with second-degree, non-premeditated murder and entered a written plea of not guilty on Nov. 30, according to court records.
But then in December he was indicted by a grand jury on the more serious charge of first-degree murder, which if he is convicted, could lead to a death sentence.
About two weeks after Perkins was arrested, court records show a full psychological evaluation was ordered and conducted.
Assistant Public Defender Alan Hunt was assigned to represent Perkins after he applied for and was granted indigent status. Assistant State Attorney Christopher Taylor is prosecuting the case for State Attorney Bruce Colton's office.