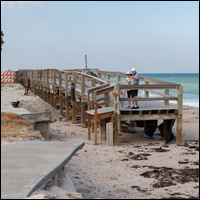 FEMA inspections delay repair of Conn Beach oceanfront boardwalk
STORY BY ALAN SNEL

More than six weeks after Hurricane Matthew pounded the Conn Beach boardwalk on Vero's oceanfront, a gaping chasm still exists between the popular walkway and the collapsed edge of the pavement on Ocean Drive.
Immediately after the storm, the city spent $45,000 on emergency repairs to make the boardwalk accessible and secure the embankment and parking area. But City Manager Jim O'Connor says further repairs are stalled until FEMA beach and ocean specialists visit in early December to inspect the damage.
O'Connor said it will take at least another $300,000 to complete repairs to the roadway, boardwalk and dunes that were washed away by high surf during the October storm, and the feds will not reimburse Vero if the city moves ahead on repairs without FEMA inspections. 
"They will tell us what is reimbursable and give us an estimate on the repair costs," O'Connor said.
Locals and tourists can still stroll along the 1,320-foot boardwalk, but several access points remain taped off because the storm took a healthy bite out of the dunes and washed away the sand below the walkway and the edge of the parking area along Ocean Drive, leaving the boardwalk standing on stilts and looking wobbly.
A section of the concrete sidewalk that leads from street parking to the boardwalk is missing, leaving a dangerous 5-foot gap between the road asphalt and the boardwalk. That section is also taped off.
The city's public works staff estimates it will cost between $300,000 and $350,000 to restore the sand below the boardwalk that got wiped away by the storm, O'Connor said.
The city has begun looking into contractor prices, but plans to wait for the federal representatives to inspect the sand damage, before hiring someone to do the repairs. O'Connor noted the city and FEMA still have a disagreement over $2 million in reimbursements the city believes it is owed from the 2004 hurricanes.
A Vero resident who was walking the boardwalk last week said he didn't think $300,000 would cover the repairs.
"They need to spend more than that to do it right once and for all," said Harold Dillon, a retired engineer.
Vero is also coping with other damaged beach areas. At the city's northern border, the staircase that provides access to the beach across from Pelican Plaza was washed out.
Repairs are needed at Humiston Park, too, where broken concrete from that park's boardwalk remains to be dealt with.