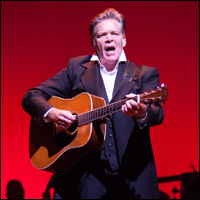 Jason Edwards, star of 'Ring of Fire,' dies two days after show's close
STORY BY MICHELLE GENZ

When Peg Girard found herself moved to tears during Riverside Theatre's "Ring of Fire: The Music of Johnny Cash," she immediately went home and googled Jason Edwards. The handsome, velvet-voiced actor who portrayed an older Cash, Edwards had also directed the show.
"He was spot-on," said Girard, a lifelong Johnny Cash fan and artistic director of the Melbourne Civic Theatre. "Man oh man, what a talent."
Now Girard seemed close to tears again. Two days after the show's last performance Nov. 13, Edwards apparently died in his sleep at his temporary Vero residence. He was discovered when friends arrived to take him to the airport. The cause was a heart attack, said Riverside's Oscar Sales.
More than 11,000 people came to see Edwards' show, a Riverside record for a season-opener. The 24 performances drew "many, many people who had not been here before," said Sales. The typical first show of the season draws 7,000 to 8,000, Sales said.
The family, which donated one of Edwards' two six-string guitars to the theater, wrote in Edwards' obituary that he had described his last day as "one of the happiest in his life." They also included a note in his obituary that those who wanted to honor Edwards could make a donation to the Riverside Theatre Endowment Fund.
"I think this is the best theater I've ever worked in," Edwards told his sister Linda.
Edwards, 62, had arrived from New York to a town preparing for Hurricane Matthew. After the run of "Ring of Fire," he stayed an extra day in Vero to go fishing with stage manager Audrey Brown, one of several boating trips the North Carolina native enjoyed during his six-week stay here. The fish were biting on that last trip and Edwards caught a good-sized redfish on a lure given to him by Riverside's executive director, Allen Cornell.
Cornell knew Edwards for 20 years through two Riverside appearances: "Pump Boys and Dinettes," another musical of country songs staged here in 1996; and "A Sanders Family Christmas," in 2000.
Five years later, Edwards won a role in the Broadway-bound production of "Ring of Fire" created and directed by Richard Maltby Jr. Edwards' rich bass-baritone is immortalized on the original cast recording, produced by John Carter Cash, the son of Johnny Cash and June Carter.
The Broadway show closed after only a month, but in 2013, Maltby and Edwards co-adapted the show, giving it another shot in Milwaukee. Edwards starred again, and more songs were added. It turned out to be just the thing for regional audiences. Edwards went on to direct and star in the reworked "Ring of Fire" in theaters across the country.
As Edwards liked to point out, he and Cash shared a rural Southern heritage. He grew up in the small town of Mars Hill, North Carolina, north of Asheville, part of a family that loved music; his sister Linda studied voice at Stetson University and went on to work in opera and musical theater. His father ran a gas station; in the evenings, friends would gather with fiddles and guitars and play music.
At 13, with help from his dad's card-playing buddy, Edwards got a seat just eight rows back to watch Cash, June Carter and Carl Perkins perform in the Charlotte Coliseum. "The power and the passion of his songs moved me," he later told a newspaper. After high school, he went to Nashville to pursue a music career, then joined a country band in Charlotte.
His sister Linda, meanwhile, was doing regional theater in Mars Hill. Edwards went to watch a production and was intrigued. He joined the theater program at Mars Hill College, then came to Florida to join Burt Reynolds' Jupiter Theatre. There, he earned his equity card before moving on to New York. He would go on to tour with "The Will Rogers Follies" with country music star Larry Gatlin, and "Man of La Mancha" with John Raitt, Bonnie's father.
"Pump Boys and Dinettes" was a less-well known show that filled many years of Edwards' life. It tells the story through music of four gas station workers and two waitresses. When Edwards saw it on Broadway in the early 1980s, he saw his window. Over the years, he acted and directed some 35 productions of the show, including at Riverside and in Orlando.
While the music in "Pump Boys" was original to the show, "Ring of Fire" had to be true to another musician – an iconic one. As Edwards told the Cincinnati Enquirer in January 2015 in advance of a production there, he considered himself "a caretaker" of Cash's music.
"I'm not Johnny Cash. I'll never be Johnny Cash," Edwards said.
The reporter noted the strain in Edward's voice. "We're just lucky …" he said, his voice trailing off. "We're lucky that he was around."