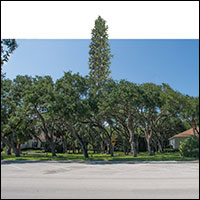 Shores cell tower may actually be ready this spring
STORY BY LISA ZAHNER

Island residents could enjoy better cellphone service in Indian River Shores before seasonal visitors leave town and head north this spring, officials said.
With all required government and neighborhood approvals being wrapped up this week, and negotiations well underway with the first major service provider, the final site plan for the new tower is expected to go to the Shores Planning Zoning and Variance Board in early December.
After that, the Town Council would need to approve any required variances, either at a special call meeting or at their regular meeting on Dec. 15.
The tower, which will be located within the Shores Public Safety Department complex, west of Town Hall in an area with existing trees, will be anchored to a concrete foundation sunk as deep as 40 feet in the ground. Because of the deep foundation, which will stabilize the tower in high winds, it will not need guy-wires.
Town Manager Robbie Stabe said Datapath Tower engineers estimate construction of the 135-foot Monopine cell phone tower designed to look like an enormous pine tree, would take at least 60 days.
"Then it will take six weeks or less to be operational," Stabe said. "Barring any major changes it should be up and operational sometime this spring."
Mayor Brian Barefoot directed Stabe to get details on the stages of construction of the tower, the antennae and the pine bough camouflage.
"If residents of Bermuda Bay are going to have the privilege of watching this thing built and if it's not going to be camouflaged until the end, they deserve to know that," Barefoot said.
The monopine design, which will cost hundreds of thousands of dollars more than a simple monopole design, was agreed upon as a compromise to mollify objections from neighboring residents who did not want an unsightly tower visible from their property.
Alternate locations, among them a utility site at the end of Fred Tuerk Drive, were deemed sub-optimal for the transmission of cell phone signals. The town was facing potential litigation from residents over proposed tower sites but was able to negotiate an agreement and finally move forward with the project after a decade of contentious discussions.