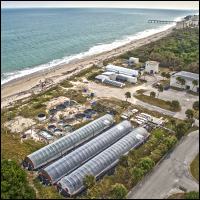 Vero Beach Marine Laboratory's big expansion plans now up in air
STORY BY KATHLEEN SLOAN

The Vero Beach Marine Laboratory was going great guns, attracting grants to research seahorses and other ornamental fish – a billion-dollar industry in Florida – led by Florida Institute of Technology Professor and Lab Director Dr. Junda Lin.
It was going so well that Florida Tech announced in 2013 a plan to expand the facility, building a $10 million education center and updated lab on the four-acre site adjacent to Tracking Station Park in Indian River Shores. 
"We plan to build a significant new building that will include a public facility where members of the community can observe our marine and aquaculture labs," Dr. Anthony James Catanese, then-president of FIT, said. A fund-raising campaign was launched.
But at the same time, Lin was battling cancer. He died in March after a seven-year fight against the disease.
Since then the site has gone quiet. 
"Currently, the university is reassessing how best to utilize the facility. In the interim, university activity at the site has been curtailed while we complete this assessment," Florida Tech Vice President of Marketing & Communications Wesley Sumner said last week. He added that fundraising for the site is ongoing.
Before the change in course, research associate and Site Manager Nancy Pham-Ho had been reaching out to the Vero Beach community, holding summer camps for local middle-school students, giving them the rare opportunity to conduct aquaculture and marine biology experiments alongside Florida Tech scientists.
Florida Tech has had a lab and aquaculture operation at the site since 1980. It's next to Tracking Station Park, behind CVS, off Highway A1A. The U.S. Air Force decommissioned the property and leased it to the institute for 30 years. In 2010, Florida Tech took ownership. Since 2001 researchers from all over the world have used the site.
The facility includes three concrete-block buildings built by the Air Force that house a classroom, offices and laboratories. There are several greenhouses and an outdoor tank system, with water pumped from the ocean from well-points under the beach.
Catanese said in 2013 that FIT expected to add a number of new faculty when the building was complete and expand research into the areas of lagoon preservation, beach renourishment, ocean engineering and general oceanography, bringing many more scientists and science students to Vero Beach.
The curtailment of activity since Lin's death has left private aquaculture companies that rent space at the site uneasy.
"We haven't heard anything since Junda died," said Fabricio Bueno, hatchery manager for Proaquatix, an ornamental fish company that operates at the site under a lease worked out with Lin. "We still don't know if we're part of the future here. Junda was a great guy. He was nothing but skin and bones at the end, but he was always positive, always upbeat. We did many collaborations and research projects together."
Bueno said Lin was always looking for business-combined-with-research opportunities, and at one point there were six businesses leasing space on the site. Now there are two, Florida Algae, which makes the super-food, spirolina, and Proaquatix.
"Our bread and butter is 'Nemo' the clownfish," Bueno said of the company's best-selling marine creature.
"This lab provides access to the best and cleanest water on the east coast. It's a little known fact and underutilized for research," Proaquatix Sales and Marketing Sales Director Seth Pierce said.